Dave Klarer Joins SOS as Vice President Electrical-Datacom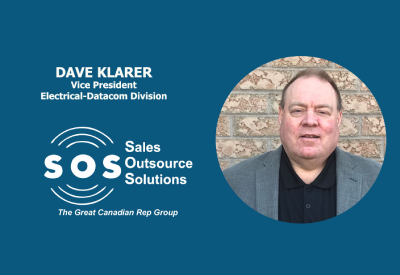 April 13, 2021
Dave Klarer has joined Sales Outsource Solutions as Vice President of SOS' Electrical-Datacom Division.
Klarer has been in the electrical and communications industry his entire career since graduating with a Bachelor of Commerce degree in 1985 from McMaster University. Having held leadership roles in both distribution and manufacturing organizations, he understands channel to market and the successful synergy that can be formed through clear communication and shared goals and visions.
Klarer has always recognized the importance of being a good custodian of the industry and is an active member of Electro Federation of Canada, having served on various committees and the National Advisory Council over the past several years.
"To be able to add someone as talented and connected as Dave Klarer to Sales Outsource Solutions is a testament to our legacy, our team and of our unlimited potential. I have the utmost confidence in his ability to expand our already significant footprint in Canada's Electrical, Industrial and Datacom marketplace" stated Tim Emoff SOS' V.P. Business Development & Partner. Emoff added "Additionally, we will leverage Dave's creativity and zeal for business innovation to enable all of the manufacturers that we represent to achieve greater penetration into all of our markets, cost effectively and efficiently."