Bartle & Gibson and ABB Announce New Agreement for Electrical Distribution Solutions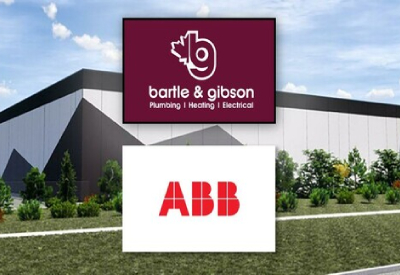 Dec 14, 2020
Bartle & Gibson Co. Ltd., has announced a new regional partnership enabling increased access to ABB's Electrical Distribution, Control and Power Solutions product portfolio across Western Canada.
"With our strong presence in the west through 31 branches located in Alberta, Saskatchewan, British Columbia and Northwest Territories, we will bring ABB's electrification products closer to the customer," said Greg Ste-phenson, Bartle & Gibson's Senior Vice-President – Electrical. "We are proud of this new partnership, which will increase satisfaction across our broad client base, thanks to ABB's excellent products for electrical distribution lines."
This product category includes medium-voltage and low-voltage distribution and control equipment, low-voltage minia-ture drives as well as traditional installation products and known brands such as Thomas & Betts. ABB's expanded port-folio ensures the safe and smart distribution of electricity, "from substation to socket" throughout industrial facilities and commercial installations, controlling power flow and quality. The company's solutions are designed to meet Canadian safety and certification standards, while ensuring easy installation, operational efficiency and reducing downtime and unforeseen costs.
Go HERE for more information
"Our agreement with Bartle & Gibson is a strategic opportunity," said Rob MacPherson, Vice-President, Industry, EPC and Business Development, ABB Electrification. "Both our organizations are still growing, and this partnership is an in-vestment in our future together. We've made a commitment to the Canadian marketplace: manufacturing for ABB and distribution for Bartle & Gibson. Here's yet another example of writing the future of electrification together — we're here to stay."
ABB's more than 100 years of experience and application knowledge combined with Bartle & Gibson's 75-year wholesale distribution history for plumbing, heating and electrical supplies guarantees a partnership focused on safe and reliable solutions.