Abbotsford, BC Gets a Bigger, Better Gescan Branch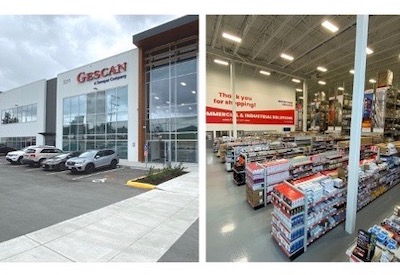 Sept 13, 2021
Last month the Gescan branch in Abbotsford opened its doors to welcome guests at a new location, 211-3311 Mount Lehman Road. Located in one of BC's fastest-growing markets, Gescan Abbotsford outgrew its existing space several years ago and had been looking for a new space to meet its long-term needs ever since.
Gescan's new location is located right off Highway 1 and features dock level doors, ample storage space, a large yard for improved efficiencies, as well as improved customer parking. With 20,000 square feet and 35-foot ceilings, the space is 30% larger and has expanded conference and office facilities.
Gescan invested $2.5M in renovating and setting up the facilities, which now offers easier access for customers with an improved warehouse layout to find products quicker, as well as an enhanced product mix.