ABB Reaches Major Milestone in Powering Safe, Reliable and Emission-Free Public Transit in Ontario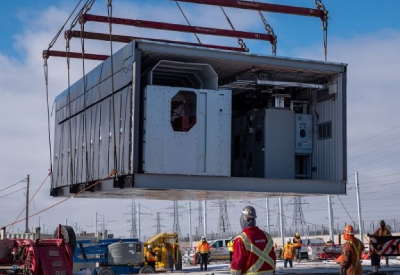 June 23, 2021
In collaboration with CYMI, a Grupo ACS company specializing in rail electrification systems, ABB successfully installed the traction power substation of the Finch West Light Rail Transit (LRT) project. After achieving this important milestone, ABB is on track to deliver the balance of the traction power substations that will ensure continued support for the new LRT line in 2023.
Powered by highly reliable, zero-emission technology, Finch West Light Rail Transit (LRT) project will improve the community's quality of life by lowering noise pollution, traffic congestion, greenhouse gas emissions, fuel consumption and reduce passenger travel time.
People-moving and community-building strategy
The new Finch West Light Rail Transit (LRT) line, owned by Metrolinx, is part of Ontario Transportation's plan to deliver better connectivity to northwest Toronto, the fastest growing metropolitan area in Canada1. Spanning more than 11 kilometres of track, this LRT, set to be completed by 2023, will move close to 46,000 passengers on weekdays. It will include 16 surface stops, an underground interchange station, and a maintenance and storage facility for the light rail vehicles. These improvements will, in turn, generate economic growth for the area.
"As the motivation and support for LRT has morphed from simply an alternative way to provide transportation to being part of a 'community building' strategy, we are delighted to be a partner for success and serve Canada's largest city with a clean energy solution." Jose Mendes dos Santos, ABB Rail Segment Manager for the Americas. "I am proud of the work accomplished by our team and of the role played by the Finch West LRT for a greener tomorrow".
Reliability powered by innovation
ABB's traction power substation (TPSS) is at the heart of this transit electrification project. Its leading-edge technology includes medium-voltage switchgear, a full range of rectifiers and feeder breakers, and represents an essential component of the overall traction electrification system for the LRT.
Improved lead time and reduced site complexity
ABB's high level of expertise coupled with its understanding of the challenges with operating heavy equipment was crucial during the engineering phase. To help with the heavy lifting, a skilled team of local workers and experts brought in a seven-axle Liebherr mobile crane and performed the task in under 11 hours. This is a clear representation of how ABB pushes the boundaries of technology to drive performance to new levels.
"We wanted experienced partners to deploy this project and selected ABB for its proven LRT experience and its highly reliable solutions." says Luis Fernandez MSF, Track and Systems Segment Manager for Mosaic Transit Group. "We were seeking a team of trusted advisors and engineers for this large-scale project that would enable us to minimize downtime and maintenance costs, develop a partnership with the local workforce, and to deliver on time. We are pleased to have ABB as one of our key suppliers."
ABB overcame installation challenges by communicating regularly with customers and focusing on problem-solving through every step of the process. This installation was all the more successful because it was carried out despite the restrictions that the pandemic brought to everyone involved.
With a wide range of expertise in the rail industry, ABB is a one-stop shop for a complete traction power supply package. ABB's comprehensive offerings for traction power supply has helped power metro and tram systems not only in Canada, but also around the globe. Most notably, Los Angeles airport's new Automated People Mover and Poland's Metro Warsaw Line, which aim to connect cities seamlessly through safe, smart and sustainable electrification.
Endnotes
Report by Global Market Insights, Ryerson University's Centre for Urban Research and Land Development (CUR)