ABB Canada Supports Efforts to Help Roll Out Vaccination Program Against COVID-19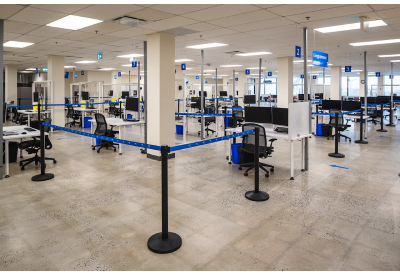 May 4, 2021
ABB Canada has become one of the first companies to offer employee support for theIndustry for Vaccination (IFV) – a collaborative initiative between government and the private sector that aims to accelerate the countrywide vaccination rollout.
Across Canada, as IFV sites ramp up their services, ABB will be supporting centers with staffing resources and financial support. Designated IFV vaccination sites in Quebec will be launched on May 3 and ABB has committed to a total of 20 full time resources at the site.
On site, the ABB team made up of IFV "ambassadors" will provide logistical and administration support to the community and the hub by taking on various roles, including greeters and guides. All ABB participants will be provided personal protective equipment (PPE) and will be fully trained by ABB and the public health organization. This will also include further guidance on vaccination site familiarizations, process and wider COVID-19 protocol.
"We are wholly committed to improving the communities where our employees live and work. We want to create lasting change for everyone in the local community and the health and safety of our employees, suppliers and customers remains our number one priority. This is a unique opportunity to be part of a growing collective to make change happen," says Eric Deschenes, Country Managing Director and Head of Electrification Business, ABB Canada.