Mohamed Amijee, New Victoria Branch Manager for E.B. Horsman & Son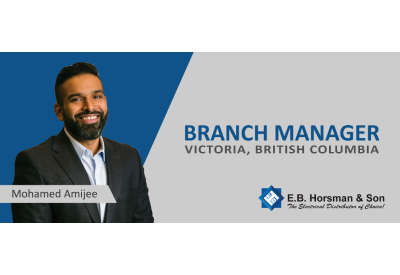 July 6, 2020
E.B. Horsman & Son (EBH) is pleased to announce Mohamed Amijee as the new Branch Manager of the E.B. Horsman & Son Victoria location. Mohamed started transitioning into his new role in June 2020, replacing Wayne Zabel, who retired earlier this year.
"We are fortunate to have someone of Mohamed Amijee's character and experience pursue and accept the leadership role at the Victoria Branch," said Dan Bennett, E.B. Horsman & Son District Branch Manager of South Vancouver Island. "We are at an exciting moment in the evolution of our Victoria branch and in need of strong leadership to successfully implement our strategy and open our new Victoria location scheduled for 2021. Mohamed has a proven track record of many achievements, is a strong communicator who is customer focused, and has a reputation for helping those around him succeed with their goals. Furthermore, as an employee who has worked for E.B. Horsman & Son for over 20 years in a variety of roles, Mohamed has a solid understanding of our products, customers, supplier partnerships, and markets."
Prior to this announcement, Mohamed worked as a Power Distribution Business Developer at E.B. Horsman & Son Surrey following many years as a Commercial Account Manager. He holds a Certificate in Business Management, from Sauder School of Business and over the past 20 years has received countless awards from E.B. Horsman & Son for philanthropy and customer service. During his time as an Account Manager and Business Developer, Mohamed was vital in creating strong relationships with many of our key supplier partners and customers. He is determined to do the same in his new role and help lead Victoria to the next level.