A Roundtable Discussion with Adrian Thomas on Hitting Climate Change Targets and Smart Innovation to Meet Demands of Electrification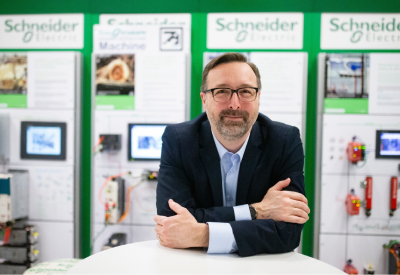 November 30, 2021
By Blake Marchand
As part of Schneider Electric's Innovation Summit held virtually on November 10th, Electrical Industry News Week was able to participate in a roundtable with Canadian President, Adrian Thomas. Schneider is a company involved in a number of different industries but the focus for this article is Thomas' comments on topics relevant to the residential market, building codes, as well as on where Canada is at when it comes to climate change. The full Innovation Summit is available on Demand, you can watch the recording HERE.
Off the top Thomas explained that, "At Schneider Electric, we are often known as an electrical company, but actually, sustainability has been at the heart of what we do. We've been on this journey for the past 15 years. So, although its something we've been hearing more and more about in the news, its something we've been working on for almost two decades."
Thomas' background in the industry is engineering and industrial automation. He noted that growing up on farm gave him perspective on the importance of the earth and preserving natural resources.
"On a personal connection basis, I can really see how the impacts of climate change need to be taken seriously. One of the things that really gives me hope and optimism is how digitizing, electrifying is helping solve this crisis. Providing the infrastructure, software developments is helping in this energy transition. There's a dilemma in human progress and our consumption of energy and dependence on technology with the need to reduce our carbon emissions and solving this dilemma can only happen when we merge the goal and the path of driving for decarbonization combined with leveraging the technology we have. If we do that, we can find a win-win solution."
Thomas stressed the need to meet our climate targets with a focus on the goals set for 2030. Canada has struggled to meet its targets in the past and still remains as a significant contributor of CO2 emissions. Which means there is challenges but also opportunity. Thomas' point here was to emphasize that if we don't meet 2030 targets, 2040 and 2050 targets become that much more challenging.
To that point, Thomas said, Schneider has accelerated their internal targets, moving some of their 2030 targets to 2025. "This means that we need to work quickly and drastically to achieve those goals."
"With the size of Canada and the population we have, we're actually one of the largest energy per capita consumers in the world. Obviously, a lot of that comes through the economy we have, so this is something we really need to look at, how we can transition the economy of Canada to reduce the amount of energy consumption per person?"
This is particularly pressing because not only is Canada a significant contributor of CO2 emissions, but our climate is warming at twice the rate of the rest of the world, "so we do see things in terms of climate events in Canada, there was a lot this summer around fires and heat domes, but actually one of the biggest risks in Canada is flooding," Thomas explained, and unfortunately we are seeing those effects right now in B.C. (Note: The roundtable where this quote is from took place before the flooding events in B.C. go HERE to donate to BCEA's flood relief fundraiser)
"Climate change is certainly impacting Canadians, and I think Canadians have an understanding climate change is important, but I think we can certainly do more of driving awareness and urgency around this. From a government standpoint, the Canadian government has the Pan-Canadian framework and is moving toward net-zero emissions. I think its important that there's collaboration between governments, companies, and also consumers."
Thomas added that, "We sit comfortably in Canada, but we have to realize there's quite a bit to be done there."
Thomas explained further that 80% of carbon emissions come from energy consumption. The primary goal of the Innovation Summit, Thomas said, was to bring together industry leaders and stakeholders to share Schneider's vision for the future.
When it comes to the residential sector, energy management hasn't been as big of a focus as other sectors and the technologies are still emerging to facilitate the energy transition. Not only do we need continued innovation from industry stakeholders, but municipal, provincial, and federal governments need to provide incentive and investment, along with regulation to strengthen the transition.
The example in the residential sector discussed in the Innovation Summit is in California, where every new build is required to have a solar/renewable energy component. To facilitate that, Schneider launched their Square D Energy Centre in the state, which integrates all the energy requirements, from the electrical panel, to solar, and EV charging while tracking consumption and facilitating the supply of excess energy back to the grid. Although, the Energy Centre has yet to be launched in Canada, it's expected in 2022.
Schneider has launched their line of connected and power monitoring wiring devices in Canada, along with Wiser Energy, which can allow home owners to get a better handle on their energy consumption.
When asked about how Canada could get to a similar level as California when it comes to renewable energy and electrification in the residential sector, Thomas said there were two levels to it: policy and consumer/industry.
"We do see some things, such as in Ontario, building codes adopted to require provisions for EV charging, for example. EV and transportation are certainly a place where we need to decarbonize more aggressively and EV can help us, particularly in places like Quebec or Ontario where they have high amounts of renewable energy already feeding the electric vehicles. But we don't adopt the practices in Canada, as quickly," he explained. Adding that, "One thing I would say from a policy standpoint, is that we need to be more aggressive in terms of provinces adopting and I think the federal government can play a role in incentivizing or encouraging provinces to make some of those similar building code adaptions."
"I think, from an industry standpoint, we can help make those things more effective and more efficient and less costly. This is where good engagement between the government and industry can make sense. Do you need every stall in a parking garage to have EV capability, do you need a large transformer that's going to supply all of those and run at low loads most of the time inefficiently? No, but if you digitize that, and if you think smartly of how you apply these sorts of technologies, you don't have to add a lot of costs in the construction. By digitizing, by having software, you can make it smart, so you're not charging all the cars at the same time, you're not charging the cars when there's other peak demands on heating or cooling, that puts demands on infrastructure and requires significant infrastructure requirements."
"There's going to be a mix of raising the floor in terms of what's required in building codes to be more efficient and more proactive around new technology. And then I think there's the adoption of technology by specifiers, by consultors, by engineers, by municipalities in terms of adopting these smart technologies to address the situation."
When it comes to residential retrofits, Thomas explained that there is opportunity to make a big impact on efficiency given the ability to turn around projects quicker, as well as save on materials and avoid supply chain investments. But there is still urgency to adopt new technologies and that means governments need to incentivize retrofits with legislation, regulation, and rebates. Consumers need to buy in as well, and industry will need to innovate, and collaborate with governments and various stakeholders to bring down the cost of these technologies and limit barriers for consumers because of the urgency of the issue.
"When people look at energy efficiency for residential homes – as a society we focus mostly on building envelope. So, we focus tremendously on ceiling gaps around windows, insulation, those types of things, and those are certainly necessary portions. When it comes to energy – the same way we talk about it for commercial is, first, do people actually understand their energy consumption?" said Thomas, referring to energy monitoring and know how much energy you're consuming and where you are consuming it.
As mentioned, Schneider's Wiser Energy monitor, "allows you to have visibility into your energy consumption at your home, and it will actually give you a comparison. You enter in a few details about the size of your home, the type of home it is, and it will show you compared to other homes in the area, whether you're higher or less in terms of energy consumption. And there's a new feature out in Beta at the moment, which converting that to show CO2, as well."
"For the consumers I would say, looking at energy monitoring at the home is step one to understand where those loads are being used, how its being used. It has the double benefit of giving you some insight into your home in terms of: have things been left on? do you have vampire loads, or things plugged in that are generating electricity."
As Thomas mentioned in comparison to the commercial space, for residential energy management, the first step is measurement. That way you have insight available to make energy saving decisions based on analytics rather than assumption.
"There's a lot of benefits in understanding the energy side of the home," he said.
You can learn more about the technology behind Wiser from our interview with Chris Micali, who co-founded Sense, the company that developed the product in collaboration with Schneider.
Thomas also touched on how retrofit incentives, not just for thermostats or lighting, as in the past, but encompassing the whole home.
"The government can certainly provide more incentive in giving homeowners the ability to move without a lot of upfront costs. Awareness is very important."
To that last point, Thomas explained, referencing transformer efficiency requirements, that adopting regulations can be slow, "I think that would be a place where pressure to move quickly on energy efficiency standards and raising the floor, could certainly help that improve."
Thomas added that, particularly with the current supply challenges and disruptions, "it's probably a time for us to focus a lot more on renovations than new construction, it saves materials, it will allow projects to move faster, and I think that's where there's a great opportunity to combine some incentives in encouraging people to do retrofits."