2020 demonstrated the importance of warehouses during a crisis. An effective lighting and controls strategy can help keep the supply chain moving
Oct 29, 2021
By David Buerer
In 2020, due to the global pandemic, warehouses and distribution centers became the mission critical workplaces that nearly everyone on the planet relied upon. E-commerce led to more purchases online, and these facilities became our lifeline to everyday goods and household staples. Warehouses and distribution centers are sizeable, active spaces, with many components—from pallets and people driving forklifts to conveyer belts and HVAC systems. Most warehouses typically operate on a 24/7 schedule, but the pandemic led to numerous disruptions. Social distancing and cleaning protocols impacted efficiencies and COVID-19 breakouts led to smaller operation teams or even temporary closure of facilities. To exacerbate the problems, over the past year, distribution centers have been busier than ever given demand for quick shipping and packaged goods.
Given these evolving challenges, one thing is clear—safety and efficiency in warehouses is front and center for those in the business of managing these facilities. Making a few adjustments with lighting and controls can enhance safety and reduce energy consumption and operating costs, which help improve an organization's bottom line. The following considerations can maximize the impact of lighting systems in warehouses and distribution centers.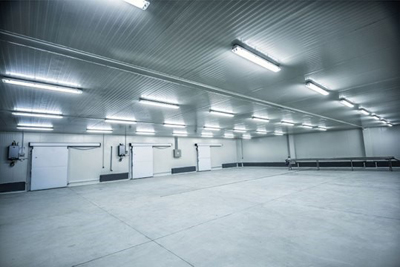 1 | Stamping out wasted watts.
Warehouse facilities are massive in size and typically major consumers of electricity and other utilities. Their size makes it difficult to pinpoint where energy waste is occurring. One way to overcome this challenge is through submetering systems. They allow warehouses to measure, monitor and manage loads in a single area of a facility, or the entire complex including the back of the house, offices and loading docks. It provides data showing how energy is being used and where improvements could be made, which could lead to significant cost savings for facilities over time. Submetering could be particularly helpful for warehouses that have multiple departments within their building or different suppliers or retailers using their space.
________________________________________
2 | Think flexible and scalable.
After you have identified areas where energy waste is occurring in facilities, it's time to think about how to control the lighting in those areas to support the needs of the space with efficiency. Flexible and scalable lighting and controls systems will allow you to create lighting schedules and control specific zones throughout the warehouse so that areas are lit when it's needed most.
For example, there may be an area of a facility that is less active or used less frequently than others. In this case, adequate lighting may only be needed during specific hours on certain days or times of year. By controlling the lighting in that zone to be lit only when needed, you can save energy and costs without impacting the productivity and safety of the space.
In contrast, for parts of warehouses that are more active and used 24/7 such as loading zones, lighting should be scheduled accordingly. Workers need light that will allow them to move safely and efficiently throughout the space and see labels on the materials they are moving.
Another way to help with scaling and control is through occupancy or motion sensors. They can be used to detect when spaces are in use and ensure that less frequently used spaces are not being lit unnecessarily. This could be a helpful tool for managing energy usage in parts of warehouses that are only used periodically throughout the day.
If you are turning to controls for the first time, the good news is that there's a way to add advanced systems without missing a beat in productivity. Wireless lighting control systems require little down time during installation and minimal ongoing labor. Flexible solutions allow you to control any space without having to pull wires or climb up ladders, further supporting safety.
________________________________________
3 | Moving around safely.

According to the U.S. Bureau of Labor Statistics, there were five non-fatal occupational injuries for every 100 workers in warehouses in 2019.1 Due to recent high demand for shipped products, warehouse and distribution centers are highly active, which increases risks for injuries even more. Poor lighting can impact the safety and efficiency of warehouse facilities as people and machines move heavy equipment and materials throughout the space.
Warehouses need consistent, bright light for employees to safely do their jobs. Replacing outdated lighting with LED luminaires means that the aisles are well lit and glare free, allowing foot and equipment traffic to travel safely throughout the warehouse. Flicker-free lighting can also boost safety, as it makes it easier for workers to clearly spot moving machinery throughout facilities and prevent accidents. In addition, product labels must also be highly visible. For shipping processes that begin in warehouses, it is important that materials are properly sorted and loaded.
________________________________________

4 | Leave the switch untouched.
Keeping warehouse facilities as clean and germ-free as possible is an ongoing priority. Depending on the design, standard controls can contribute to the spread of germs. With manual on lighting systems, they require that a person turns lights on upon entry.
Touchless controls and sensors are one way to limit physical touch and support a healthy workplace. They allow users to control or program the lights from an app on a mobile device, rather than using a shared device. For example, users can program lights on their smart phone to turn on automatically when a person enters an area or turn off when a timer expires from the last detected motion. By creating these schedules and minimizing the spread of germs through physical touch, you can ensure the workers can stay healthy and productive and can keep up with high activity demands during busy seasons.
As an important rule of thumb when planning your designs, look for spec-ready and code compliant solutions. This will ensure that your solutions are specifically designed to support warehouse facilities and that they align with the latest safety and energy standards.
Whether you are designing a distribution center, climate-controlled or private warehouse, safety, efficiency and productivity should be top of mind. Flexible and scalable lighting controls systems that promote energy efficiency can help keep warehouses running smoothly no matter the challenges—whether it be a spike in demand for goods or a global health crisis.
References
1. https://www.bls.gov/web/osh/summ1_00.htm#soii_n17_as_t1.f.1

Contributor(s)
David Buerer

David Buerer is director of product management at Leviton Manufacturing, Inc., focusing on systems and networking products, where for the past 19 years he has been responsible for all aspects of product design from market research through development, launch and sunset. Prior to his time at Leviton, Buerer was a senior designer at PLA Designs, Inc, focusing in theater consulting, architectural controls and lighting design for themed environments.
First published here: https://www.ies.org/lda/a-well-oiled-machine/

Thank you to IES for permission to share the article with our readers