YPN Ontario Region Presents "Voice of Influence" Lucy Cornell – Oct. 14, 2021

September 2, 2021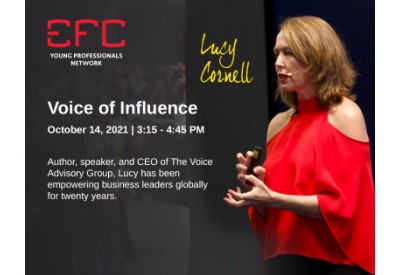 Join EFC's Ontario Young Professionals Network (YPN) for a 90-minute interactive session that will equip you with the tools you need to harness your authentic voice as a business professional.
Objectives:
Understand how to establish presence and maintain confidence when speaking
Learn how to command attention through use of physicality, breath, voice and energy
Learn how to step confidently into high stakes speaking
Hold court, be heard and assert your right to speak in the business
Explore practical techniques to manage nerves
Understand how to increase influence through connection and engagement
Practical tips to take away and incorporate into the business
World-renowned speaker, Lucy Cornell enables leaders to connect with and engage their audience with an authentic voice; one that demonstrates presence, credibility, persuasive power, confidence, and vision.
Lucy is one of 200 Linklater trained voice teachers in the world with has extensive academic and practical experience training with voice tutors from Royal Shakespeare Company (UK) and as an actor and teacher at Shakespeare and Company (USA). She also holds a Masters of Applied Science in Voice Research (U.Sydney) and a Bachelor of Arts/Education (UNSW).
Go HERE to sign up.