Virtual Sales Strategies Part 2: Applying the Techniques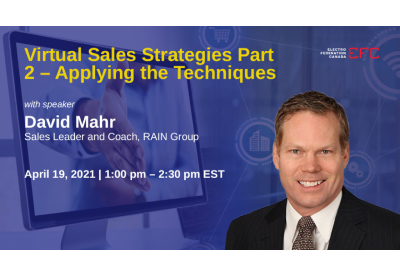 March 31, 2021
April 19th, 2021| 1:00pm – 2:30pm EST | Reg. $129 pp + tax | Register Here
Did you know?
87% of sellers report that building rapport and developing relationships with buyers virtually is challenging.
Only 25% of buyers say virtual sellers are very effective at building rapport and relationship development. That means only 1 in 4 of us are a top performer!
What we sell has essentially not changed, but how we sell is radically different. Virtual selling requires a new mindset, skillset, and toolkit.
Join your industry peers for this dynamic workshop with Dave Mahr, Partner and Sales Leader from RAIN Group.
What you will learn:
Tips, techniques, and current best practices for virtual selling

(pre-meeting, during the meeting and post-meeting guidance)

How to overcome challenges and take advantage of new opportunities that have been created moving from live to virtual selling
The 4 virtual selling imperatives
How to develop rapport quickly in virtual sales meetings
Experience a product demo example which uses the latest tools and techniques.
How to present yourself in the most professional manner
Plus: Dave will provide a toolkit for virtual sellers: techniques, templates, and checklists to accelerate your learning and skills from in-person to remote selling with clear and concise guidance.
Register Here
*ATTN: Members who registered for the March 11th webinar with Howard Olsen, do not register to this event, you will be pre-registered in the coming days. A separate communication will be sent to you from the events@electrofed.com Zoom account.