Trimble Joins ETIM North America to Support the Adoption of Electrical Product Data Standards for Construction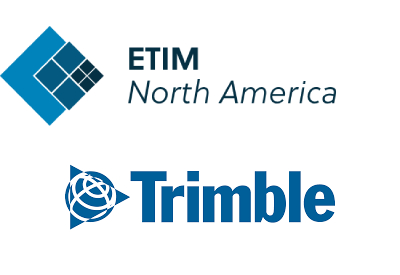 Feb 2, 2021
ETIM North America announced today that Trimble, a leader in construction technology including pricing and software solutions for electrical distributors, contractors, and engineers / designers, has joined ETIM North America (NA), a non-profit association responsible for the translation and adoption of the ETIM product classification model. Trimble's reach throughout the electrical ecosystem is significant for ETIM NA as it can help facilitate the adoption and utilization of the ETIM product data standards throughout the industry.
The association's vision is to support the adoption and utilization of the machine-readable data standards throughout the electrical ecosystem, enabling efficient transfer of product information across technology platforms. In less than a year ETIM NA has attracted manufacturers and distributors to assist in refining the ETIM product classification model—first starting in the Power Distribution and Industrial Automation segments and now expanding into Wiring Devices and Lighting Controls. The adoption of these standards can help contractors and engineers use the constructible process with truly reliable product data to improve project productivity and reduce waste.
In addition, Trimble technology solutions such as Trimble Construction Analytics and MEPcontent can allow members of ETIM NA to better understand how their product content is used throughout the construction process. Over time, the collaboration between ETIM NA and Trimble can accelerate the adoption of the ETIM standards and enable the seamless transfer of product information between workflows.
According to Jim Reis, Business Area Director, Trimble MEP Content & Construction Analytics: "The ETIM model is being quickly adopted globally and Trimble is committed to supporting our customers in this effort. We know that the efficient communication of product information is integral to the future of the construction trades. We believe that Trimble's constructible process and analytical insights help to reduce operating costs for all. We see the adoption of ETIM standards as an element of this."
Matt Christensen, chairman of ETIM NA, commented that "I'm pleased that Trimble has joined ETIM NA. It's important that all of the electrical industry's software companies be involved—a coordinated effort can help our industry participate in a global standard to improve efficiency and effectiveness."
ETIM NA's Executive Director, Mary Shaw, remarked that "Trimble's vision helps reinforce the potential benefits of the ETIM model throughout the industry with their reach to manufacturers and contractors. In addition, the contributions they will make in our Product Expert groups potentially quicken the refinement process. We've always said we want ETIM North America to be a collaborative environment, which is why we are a non-profit association and welcome all software companies to join with all manufacturers and distributors so we can focus as an industry—on the improved efficiency of data communication."
To learn more about ETIM NA, its Product Expert Groups and how to participate, visit www.etim-na.org or contact Mary Shaw at mary@etim-na.org