Targeted Marketing Helps Minimize, Avoid, Recessions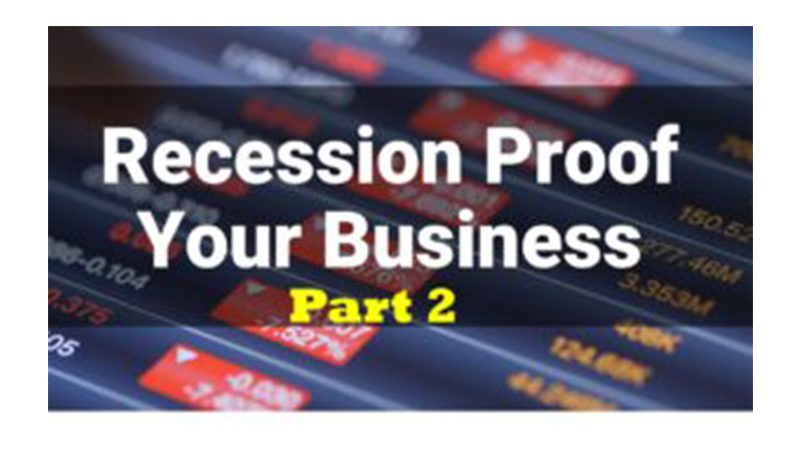 October 6, 2022
By David Gordon, President, Channel Marketing Group
Over the past several weeks I've spoken to a number of distributors and manufacturers who have commented that they have seen a decline in the number of units that they are selling compared to last year, especially for stock items. While sales revenue remains strong, in most cases this is due to projects or declining backlog. All inquire about thoughts on a recession.
And, according to some who attended the recent AD meeting, while distributors were positive and enthusiastic, a number expressed concern going into 2023.
This is further "supported" by the recent DISC Flash report that projects negative numbers, across all sectors, beginning in Q2 2023 and continuing into 2024 (and granted, this is without the impact of commodity price increases / decreases and any tariff changes … it is driven by economic algorithms.)
The bottom-line is that the Fed, government spending and probably the media will probably make a recession a reality.
However, there are a number of areas, and business segments, that are destined to avoid a recession and grow. In fact, some will choose to "opt-out" of a recession.
Ways of achieving this relate to:
Planning for intentional growth
Taking advantage of secular growth segments
Geographically "being in the right place at the right time"
Focusing sales and marketing efforts, which can be enhanced with some analytical insights to spot opportunities and being proactive.
"Simple" analysis designed to guide and quickly identify opportunities coupled with proactive marketing supported by a user-friendly customer contact list / database can help distributors of all size communicate more with their customers and spot opportunities. Add a little supplier support and/or information from a supportive marketing group and there is the opportunity to either minimize effects of a recession or perhaps capitalize on opportunities.
For more insights on sales planning and marketing prior to, and during, a recession we asked SMP to share their thoughts and their unique Target Marketing as a Service (TMaaS) offering.
Many studies have shown that optimizing the share of existing customer spend is key to a distributor's growth. I'm sure you've already read multiple articles that explain the gap in the cost of selling to a new versus an existing customer.
It's well established that increasing your share of wallet spend with a customer is always going to be your best route to significant and sustained revenue growth, as well as increased profitability.
In fact, in our last article on recession proofing your business, we discussed the importance of retaining and growing your existing customers. The feedback we've received since that article has almost exclusively been. "OK, but how do we do that?" so that's what we'd like to cover today.
We have been hearing anecdotally over the years from both customers and prospects who are having success gaining wallet share, that marketing plays a big part in that success. Almost all said they noticed differences in the success of promotions and marketing campaigns when they hand pick the recipients, so lean into that tactic as a result.
For example, a sales rep offering a one-off discount to a customer they noticed hadn't ordered a particular line for a while would result in an order, so that rep would replicate with other customers showing similar buying behavior. A fall promotion on security lighting worked better when residential customers were singled out, so they used that same customer list when they ran their summer promo on ceiling fans.
The examples we've experienced are varied but all share a similar theme – segmenting your customers and tailoring your marketing accordingly generates success, so we did some research to find out more.
First off, we found that segmented or targeted marketing, which is what we're describing here, is significantly more successful in general. Previous studies have shown that there is a 760% increase in marketing ROI in targeted campaigns versus general marketing campaigns.
We also discovered that companies reported higher close rates, increased revenue growth and a string of other benefits when they were more selective over who they send their marketing outreach to.
The vast majority of these studies though, were not distribution specific, so retailers are mixed in with wholesalers, manufacturers, service providers and more. We decided that it would be extremely useful to understand if those trends were also reflected in the industries where SMP does most of our business. Over the years, SMP has worked with hundreds of distributors (over half of whom operate in the Electrical industry), so we put together a marketing survey and asked our extensive network to let us know how they do things. The results were fascinating.
Hundreds of respondents across the length and breadth of the US completed the survey. Companies ranging from small local operations to large distributors, from Electrical, to plumbing, HVAC and Industrial, all shared experience. These are some of the highlights:
<33% of distributors take advantage of the benefits that targeted marketing offers.
Of those that do leverage targeted marketing, 100% reported benefits. Benefits included higher marketing ROI, higher revenue growth, higher close rates and larger order size.
Distributors targeting by buying behavior (so, correlating audience to purchase activity) were 4.5 times more likely to experience higher order profitability.
Companies who segment their targeting by geography were 2x as likely to see improved close rates. Plus, it helps them control costs as they are able to maximize their marketing efforts in a concentrated area.
With this much upside, it begs the question – why aren't more distributors doing it?
The simple, and overwhelming, response from respondents was that they perceive it is too difficult and too time consuming to make it worthwhile.
Additionally, addressing those issues typically requires investment in either resources, systems, or process improvements. None of which are easy to implement.
But, in follow-up interviews we conducted, all shared that if it was easier, they would implement it because it has a higher marketing return and results in a lower absolute cost because it is more effective.
One answer is to invest in tools that reduce the effort required to analyze, segment, and then message your customer base.
Customer Relationship Management (CRM) solutions help you keep contacts and customer information accurate and up to date. (But, let's be honest, sales organizations cringe at the term "CRM"!). Business Intelligence (BI) tools are great at helping you analyze and dissect your customers buying behaviors and marketing automation tools streamline the outreach part of the process (and distributors say "I don't have the time for "data analytics" and my data isn't perfect.).
One of the challenges with CRM and BI tools is that you need internal resources and need to make software investments. They can be the right solution for "medium and large" companies but what about smaller distributors and manufacturers, those wanting to start regionally or for a division or have a limited budget? Is it better to do nothing?
Based upon the survey results, the answer is no. Doing some targeted marketing is better than doing none. Investing in one of the tools above is certainly a step in the right direction. Investing in one solution that does all three is an even bigger step.
SMP has a robust, integrated, CRM and BI tool which delivers industry leading analysis through Qlik dashboards integrated seamlessly with both CRM and marketing automation.
Recognizing that more need to use targeted marketing and leverage marketing automation tools, we launched Targeted Marketing as a Service this year. This is a service for businesses who don't have the bandwidth to onboard a new solution or do the marketing work manually themselves. It's a turnkey solution, with price levels for every size of budget.
The bottom line is, if you can find a way to send the right type of marketing message to the right customers at the right time and then follow up effectively, you can gain additional revenue from existing customers. Putting your business in a stronger position regardless of the wider economic outlook.
Planning for 2023
Winning in a recession is feasible for all sizes of distributors. Some key steps include:

Street fighting … winning at the existing account level. Not only fighting for every profitable order, but also identifying opportunities within existing accounts that may make your salespeople uncomfortable (they have to ask for business they have consciously avoided!)

In other words … focusing / targeting behaviors, which also requires proactive sales management and/or the right KPI's.

Diversification … identifying complementary product segments to increase average order size and improve the profitability of each order
Account acquisition
Staying in touch. Remember, "frequency of communication captures mind share; mind share captures market share". Or, consider it this way "need to cast a net to catch fish".

A key element of this is utilizing marketing as a force multiplier … it can reach more customers, more cost-effectively with "simple" messaging than a high cost outside sales organization or an over-worked inside sales organization that is burdened with customer service requests.

Identifying underperforming accounts and determining appropriate pricing and servicing strategies

Refining your brand to ensure that you are communicating the "right" message in why people should want to do business with you.
SMP's TMaaS service is affordable for all and can help small to medium-sized distributors (and even manufacturers and reps) who do not have marketing resources get into the marketing game. For only $500 / month a company can generate 16 customer touches. More importantly, the process integrates data analysis and business planning. A turnkey solution.