Taiga Motors and ABB Partner to Electrify Recreational Vehicles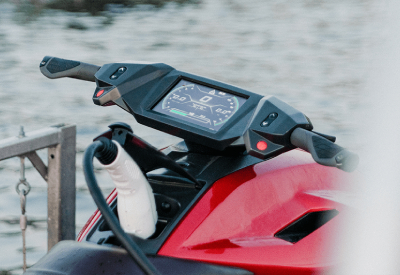 Nov 30, 2020
ABB has partnered with Taiga Motors, maker of electric powersports vehicles, to expand sustainability to off-road vehicles across North America and Europe. ABB will offer its safe, reliable and compact Terra AC wallbox and Terra DC wallbox charging stations.
The global powersports market delivered record-breaking sales this year and is expected to continue growing rapidly with a compound annual growth rate at over 6% between 2020 and 2026 according to Global Market Insights1. But this growth may take an environmental toll because snowmobiles are one of the few vehicles that do not require a catalytic converter, a device that reduces the amount of harmful pollutants from a vehicle. The absence of this converter leads to disproportionate emission levels to the point where electrifying one snowmobile can have the same environmental impact as electrifying more than forty cars.
Canada-based Taiga Motors is heralding a new era of electrification for off-road vehicles with the world's first production electric snowmobiles and personal watercrafts. By eliminating noise pollution and reducing the vehicles' environmental impact, this partnership leads the way to a sustainable future at a time when countries have increased regulations at national parks, lakes and trails worldwide.
ABB will enable Taiga Motors to bring reliable and effective charging solutions to its customers. For recreational vehicles, the two key factors are ensuring power and performance, which are both fulfilled by Taiga Motors' electric offerings that feature more torque and faster acceleration.
ABB lays the foundations for a future of safe, smart, and sustainable mobility, accessible by everyone, everywhere by providing charging solutions that meet the needs of the next generation of electric vehicles. Its e-mobility solutions form an important part of ABB Electrifications 'Mission to Zero' initiative, which supports carbon reduction with solutions which use less and cleaner energy.
This partnership will encourage adoption of EVs across North America and Europe by making it easier for recreational riders and flee operators to charge their off-road vehicles at marinas, ski resorts, popular trails, and even remote riding areas such as the mountainous backcountry. ABB's charging stations, designed to work in harsh weather conditions, are a perfect fit as these vehicles will be operated in some of the most extreme environments.
Taiga Motors was founded in 2015 by a group of engineers that believed there should not exist a compromise between exhilarating powersport pursuits and sacrificing the environment. Taking on one of the most challenging vehicle segments to electrify, Taiga has pushed the frontiers of electric technology to achieve the extreme power, weight and thermal specifications required to outperform the high performance but polluting 2-stroke engine. The result is the world's first electric snowmobile and watercraft designed from the ground up that is faster, more reliable, more efficient & better connected to the great outdoors.