Southwire Canada Named as a Great Place to Work for the 3rd Year in a Row
June 28, 2023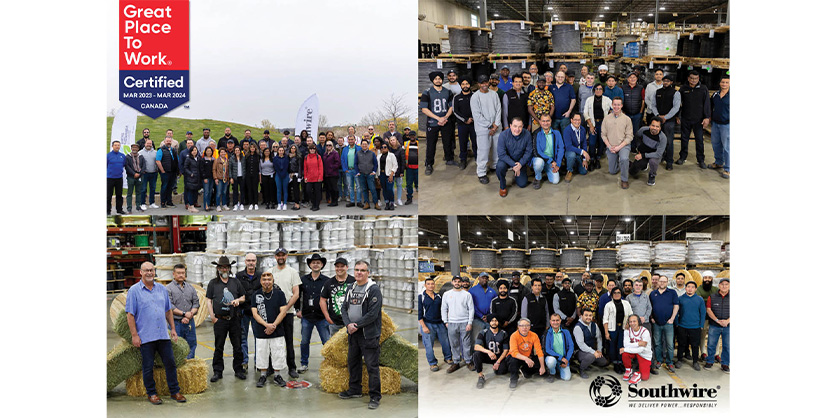 Southwire Canada is pleased to announce that it has been named as a Great Place to Work (GPTW) Certified organization for the third year in a row.
The recertification showcases the company's commitment to its team members, communities and other stakeholders.
"I am very proud of our Southwire Canada team for achieving this certification for the third consecutive year," said Tim King, president of Southwire Canada. "This accomplishment speaks to our unwavering dedication to cultivating an inclusive, empowering and dynamic workplace culture. Our team members – The People Behind the Power – are fundamental to our success, and this recognition reaffirms our steadfast commitment to their well-being, personal growth and overall happiness." 

Tim King, President of Southwire Canada
Southwire received this recognition after a thorough and independent analysis conducted by GPTW, a global research and consulting firm dedicated to helping organizations assess and develop their workplaces, cultures and levels of employee engagement.
"We will continue to prioritize the voices of our team members, champion their aspirations and foster an environment where everyone can truly flourish," said King. "Together, we are building an extraordinary company that not only attracts and retains exceptional talent but also creates a future full of boundless possibilities. I am genuinely thrilled about our journey as we unite as ONE Southwire."

Tim King, President of Southwire Canada
According to GPTW, trust is the main ingredient in building a great place to work for all, which is why the organization uses the Trust Index – based on the Great Place to Work Trust Model – to measure the levels of trust in the workplace according to five key dimensions: credibility, respect, fairness, pride and camaraderie. GPTW uses this structure to define a great workplace as one where employees trust the people they work for, take pride in the work they do, and love the people they work with.
"Having the honor of being recognized for the third time in a row is all due to our team members, and it demonstrates that the foundation of a great workplace lies primarily in the culture of the organization — more than in the compensation, benefits and other perks," said Rahila Dhansi, People & Culture manager for Southwire Canada. "Our leaders and team members have worked hard to instill and maintain a culture of trust and engagement. Receiving this certification again demonstrates that we are inclusively marching in the right direction together."

Rahila Dhansi, People & Culture manager for Southwire Canada
To learn more about Southwire's culture and explore open positions across the organization, visit www.careers.southwire.com. For more Southwire news, visit www.southwire.com/newsroom.