Southwire and BHP Complete First Carbon Neutral Copper Delivery with Enhanced Traceability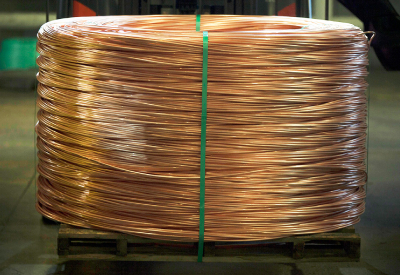 October 12, 2021
Supporting the company's commitment to be a leader in sustainability, Southwire is collaborating with BHP, a leading global resources company, on a copper supply traceability pilot project. The companies have completed the first phase of the pilot to study carbon traceability in the supply chain from BHP's copper mines in Chile to copper rod production at Southwire's rod mill in Carrollton, Ga.
The first phase of the pilot involved a copper shipment in the second quarter of 2021, which traced BHP copper and associated greenhouse gas emissions through Southwire's rod production operations. The companies collaborated with Circulor, a London-headquartered supply chain traceability provider
that uses blockchain technology, to provide transparency and traceability through the supply chain and manufacturing process. As a part of the traceability pilot, BHP and Southwire offset greenhouse gas emissions generated from the production, transportation and processing of the designated copper shipments to explore the potential for low-carbon products.
"As Southwire explores the potential of low-carbon wire and cable products, we are pleased to work with key leaders in our supply chain to reduce greenhouse gas emissions across our value chain," said Burt Fealing, executive vice president, general counsel and chief sustainability officer. "We look forward to continuing to generate a broader impact on carbon reduction by collaborating with like-minded companies such as BHP."
The companies are planning a second shipment for the fourth quarter of 2021 with an expanded scope to include Southwire's wire manufacturing operations. Ultimately, Southwire and BHP aim to collaborate with an end-customer interested in purchasing low-carbon copper wire and cable products to support their greenhouse gas emissions reduction initiatives.
"This is an impressive partnership that we are forging with Southwire in successfully incorporating blockchain into our supply chain and exploring the role of carbon offsets in providing 'carbon neutral' copper during the transition period. We are constantly exploring innovative ways of decarbonising across all of our commodities' businesses and are delighted to be bringing key partners like Southwire on board to challenge, learn and improve what can be done in this space," said Michiel Hovers, BHP's group sales and marketing officer.
Circulor's CEO and Founder, Douglas Johnson-Poensgen, added, "We are delighted to be supporting leading companies like BHP and Southwire with our market-leading technology to create and underpin carbon neutral products in the copper mining and manufacturing industries. This initiative reflects both the increasing emphasis placed on sustainability, and the important role that technology can play in improving carbon traceability in supply chains."