Rittal Offers New IoT Interface for Climate Control Solutions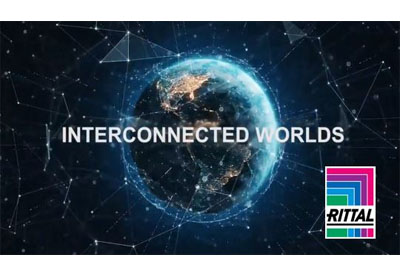 Janaury 17, 2018
Industry 4.0 scenarios such as redictive maintenance are based on the provision of data and networked communication. For this to happen, IoT-compatible devices equipped with the necessary communication options are required. With its new IoT interface, Rittal is now laying the foundation for the optimal integration of cooling units and chillers in Industry 4.0 applications. This makes continuous communication from the sensor to the cloud possible, as well as connection to superordinate monitoring or energy management systems.
A great deal of information is generated when it comes to operating modern climate control solutions in enclosures. Until now, it has only been practical to record operating hours and the current temperature inside the enclosure. But with modern devices like the new cooling units and chillers in the Rittal Blue e+ range, a multitude of values and other information can be measured and recorded. This includes the temperatures inside and outside the enclosure, the evaporator and condenser temperatures and, where appropriate, measurements from additional sensors located inside the enclosure. Instead of a simple operating hours meter, the run-times of the compressor and internal and external fan are recorded separately. There are also system messages, data for capacity utilisation and the current parametrisation information.
Tim Rourke, President, Rittal Systems Ltd., said, "Rittal is a pacesetter when it comes to introducing systems that respond to the customers' needs for greater security, monitoring and energy savings. It is crucial for businesses to select systems that are IoT enabled in order to meet the challenges of Industry 4.0."
Creating added value from data
In order to generate added value from the high volume of data, the information must be made available to superordinate systems. To make the seamless communication of data possible, Rittal now offers its new IoT interface, which turns the cooling units and chillers in the Blue e+ range into IoT-compatible devices. The IoT interface can either be mounted on a top hat rail or directly on the cooling unit or chiller. The protocols supported are OPC-UA, Profinet, SNMP, Modbus and CANopen. The number of protocols supported makes it is possible to connect to superordinate monitoring or energy management systems in virtually every case. The data from the cooling units and chillers is then available in these systems at all times. It is also possible to set parameters and configure settings via the IoT interface.
Cloud connectivity
The information from the devices can also be used for a wide range of analyses. The communication options available through the new IoT interfaces make it possible to integrate the climate control solutions into IoT applications, paving the way for new applications and smart service solutions. For example, the options make optimisation of maintenance and servicing of climate control solutions possible, lowering operating costs. Another important application is energy data management. With all data available at all times, the level of energy efficiency is increased, which in turn helps reduce costs.
Check out Rittal's new IoT video: Increase your machine availability with smart data use! https://www.youtube.com/watch?v=fsMNn3zdAlY