Quiet Strength: Two Words that Best Describe John Sencich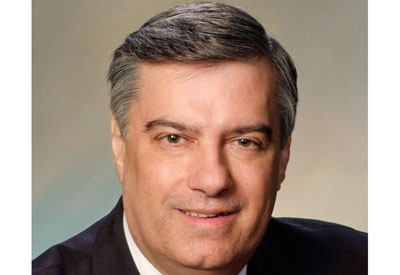 February 8, 2018
By Line Goyette
I've known John Sencich since CEW began publishing. He agreed from the outset to be part of the newsletter's Editorial Board. His contribution was regular and sustained. Always present to answer my technical questions, and refer me to the right person for additional information as needed. Always available despite his role as senior leader of an influential company.
Over the past five years, many industry insiders have cited John Sencich when I asked them to name someone who had made a difference in their lives or had inspired them as a leader. John preferred that I not mention his name publicly. A quiet force — these words in my opinion best summarize this industry personality who will retire shortly. I asked him before he leaves to give us his thoughts on the industry and the direction in which we are heading.
John, you've been in the industry since the beginning of your career. You have climbed the ranks at T&B to become Executive Vice President for ABB Canada (following ABB's acquisition of Thomas & Betts). You've also had important responsibilities for T&B Australasia. What have been the most important changes you have seen in your career in our industry?
I entered the electrical industry in 1981; it seemed a natural fit as it had provided my father with a long career. Looking back, I realize that I arrived at the dawn of a technological revolution when computers and technology would forever change how the world would do business in the future. I had always had a natural ability and curiosity about technology, so for me it was an exciting time to jump in.
I was interviewed for an entry level position as a marketing coordinator by Karen, who would later become my wife. My first day on the job introduced me to technology that for today's youth would seem archaic: mainframe computers, teletypes, orders received by phone or mail, and courier documentation written by hand.
In the early 80s, people still believed in a career with a limited number of companies — if not just one. Training was carried out by individuals and paper dominated our lives. Technology has also influenced a changing workforce. Spurred on by the advancement in technology (smart phones, the web and social media), today's workforce is much more transient and think nothing of switching companies or in many cases careers not once or twice, but numerous times throughout their working life. They are connected 24/7, rarely use pen and paper, and expect their employer to move quickly.
In a short span of time, companies raced to keep pace or be left behind. What became very clear, very quickly is that it was not the technological changes that provided the challenge, it was the increasing rate of change. Today, that rate of change has reached exponential proportions.
What were your greatest challenges?
As a young manager, understanding how to motivate people at first presented a challenge. Being highly organized and technologically adept, initially I would try to imprint my methodologies on those working for me. I grew to learn that each employee had his/her own way of working and learning. For employees to succeed in their assignments, they needed me to delegate the appropriate responsibility and authority.
I recall feeling frustrated at times with the slow adoption by the industry of new practices. Case in point — in the mid-80s, in an effort assist the Canadian industry to keep competitive, CEDA (Canadian Electrical Distributors Association) formed an EDI (Electronic Data Interchange) committee to determine how our industry could implement electronic commerce and as a result reduce transaction costs. Unfortunately, the project was shelved when the fax machine was introduced. I remember being unable to fathom how an automated process like EDI was being put on hold due to an electronic communication device that still required a great deal of manual intervention for both senders and receivers. The retail industry and many large retailers took the upper hand and forced manufacturers to implement EDI in order to remain a supplier. Perhaps the electrical industry should have done the same thing 30 years ago.
What have been greatest moments of your career and those of the industry in that time?
I had a front row seat to watch the electrical industry leaders as they "paved the road while they were driving along." It was inspirational to be a witness to the trial and error and subsequent successes. I was the new young guy, but early on I was excited to be given a voice by those in senior management who were willing to listen to my ideas and offer opportunities to continuously grow and expand my horizons. In many cases, I was venturing into uncharted territory. However, always being up for a challenge I relished those times.
What were your greatest successes?
In the early 90s, a need arose to examine how our industry associations were going to move forward. At that time, I chaired EEMAC's (Electrical/Electronic Manufacturers' Association Canada) Marketing through Distribution Committee. As chair, I was honoured to be asked to participate on a committee comprising a small number of distributors and manufacturers to determine how a combined CEDA and EEMAC would look and function. We started with a blank sheet of paper, and after much discussion Electro-Federation Canada was born.
I was proud and humbled to chair both the Supply and Distribution Council and subsequently the Electrical Council for EFC. EFC is unique to the Canadian electrical industry due to the ability of distributors and suppliers to be part of one joint association. Our U.S. counterparts are often envious of the way we work together in one association toward common goals.
In 2011, I was asked to take on responsibility for T&B's Australasian business in addition to my existing duties with Thomas & Betts Canada. This was a business that was underperforming and declining in sales year after year. My task was to turn it into a profitable growing business, which I'm happy to say we accomplished. A great many people worked very hard as a team to turn this business around. The major lesson I learned is that good people will often surprise you with their ability to achieve far more than you would have thought them capable of given dire circumstances.
I can also say that I'm proud of having coached, guided and mentored many individuals during my career. I've had the pleasure of seeing them take on challenges, overcome obstacles and have their own very successful careers.
What do you see as tomorrow's big challenges for the industry?
What do I see ahead for this industry as I prepare to retire after 37 wonderful years? In the short term, I certainly am concerned about how relations with our neighbour to the south will progress. We work so closely with U.S. counterparts and the prevailing uncertainty does not make for optimum business conditions. I also have a concern over the influx of global products. Not only counterfeit products, but legitimate, quality products that are cost effective. We need to be smart, progressive and lead in terms of innovation and manufacturing competitiveness so that we can maintain our Canadian manufacturing base. If we continue to see this base erode, the available market for our products and consequently jobs will erode as well.
While continuing to protect our base, we need to reach out globally and ensure we are closely aligned with what is happening in other parts of the world. Decisions for activities in Canada (e.g., specifications for construction of new industrial plants) are often determined outside of Canada, unlike decades ago when Canadian consultants determined our fate.
In the long term, it will be essential for the industry to find the best approach to working with Millennials and future generations. They interpret the world differently than my generation — I know since I have two Millennial sons now in the workforce. A nine-to-five workday may not be what they seek in their career. To be successful, employers need to find ways to motivate and provide interesting challenges to attract the talent that the Canadian electrical industry needs to keep moving forward. Today, we observe in awe the practices and benefits afforded to Google or Facebook employees. These may very well become common practice in a very short span of time.
Our offerings to the market have started to evolve and will continue to do so at an increasing pace. Products are becoming smarter and in the "Internet of Things" these products are communicating as part of a system. More customers will be interested in solutions as opposed to just a product. We need to be prepared to offer these solutions and have the sales personnel with the proficiencies to speak the customers' language. This will certainly require an upgrade to the skills of some of the employees in our sales and technical teams.
Interactions between manufacturers and channel partners will need to evolve as well. Transactions will be completely automated. Our channel partners will need to provide more and more solution-based selling efforts to their customers. For product sales, websites, supporting logistics and deliveries will need to be at least as good or even better than online retailers to compete against the Amazons of this world. I envision the day when distributors will no longer stock D and E items but rather create these items on a 3D printer installed in their warehouses. Instead of shipping a product in response to a purchase order, a manufacturer will send an electronic key to unlock the software for the 3D printing to take place.
What have been sources of inspiration in your career?
First and foremost were the people. The electrical industry is a great place to work with many intelligent, motivated, innovative and inspirational people. I took my cue from these many individuals and tried to learn as much as I could from these mentors, many who have become industry icons. The people that I worked with and who worked for me were also strong motivating factors. I learned from both my peers and subordinates and it was especially encouraging to see people who reported to me take on new challenges, overcome obstacles, succeed and grow in the process.
Second were the continuing challenges of an evolving industry. I enjoyed taking on numerous responsibilities, each with unique challenges, and working with my teams to achieve positive results.
Lastly, was my family, especially my wife Karen who has been my strongest ally throughout my entire career.
How do you reconcile such a demanding job with the need to stay informed about technological advances, new business models, and the formidable family life that I know you have?
As my career advanced, I found that I could keep abreast of changes by reading industry publications and later internet research. I found that the most effective way to gather knowledge was through networking. I have been fortunate to have many advisors and mentors (too many to name individually) who were always so generous with their time and their knowledge. In turn, I have endeavoured to pass along what I can to the upcoming generation of industry leaders.
This industry has provided me and my family a comfortable living and a challenging career, and I am very grateful to have witnessed so much interesting history. Business was important but my priority was always my family. I am blessed with an understanding wife and grown sons who realized that travel was an integral part of my job and sometimes I missed special events. However, technology proved once more to be a blessing in that I could communicate via phone, fax, email or Facetime to keep up with the news at home. I recall working in Australia and getting a fax with the math homework that stumped my son!
Line Goyette is Managing Editor of CEW.