Running Man: Stelpro's Yves Chabot
March 15 2016
You will read in this profile musings from a corporate leader on managing, sharing success with your team, balancing professional life and personal life, and more. You'll have read each of them before, but collectively they give meaning to what Yves Chabot, President and CEO of Stelpro, has accomplished. Chabot makes it all sound so effortless, but he's a true original. He runs every day regardless of the weather — a useful model for taking on life's challenges. 
How do you evaluate success?
By achieving your goals! There are many ways to define or evaluate success, but one of them is to first of all set out goals and you find success if we achieve them. Then we celebrate — important to celebrate with the people that were part of this success. 
What have you learned from your mistakes? And from your successes? 
We all make mistakes, I do! I do because I take decisions, a lot, every day and you can't be right all the time. If I forget, my wife lets me know. You take decisions based on the information you have at that time and all that mixed with your background (what you have learned and tried in the past). You try to avoid making the same mistakes twice and try to duplicate good and successful decisions. Mistakes and successes are both part of the learning process. As you grow older you should get wiser if you've learned from both. At 47, I'm still learning!
What has been the greatest achievement in your life so far?
Family. I've been happily married for 24 years, celebrating my 25th wedding anniversary in 2016. Stelpro is celebrating its 35th year this year — two milestones! My son, whom I'm very proud of, just turned 18 last December. Maybe the third generation?
Personally, my first full marathon, after which I completed six more. I also ran 365 consecutive days without missing one single day — whatever the weather conditions, however I felt, and wherever I was in the world. I've been sharing my passion for exercising and running with a lot of people around me, and for many of them that was the spark to start exercising and for some even to run marathons. I think I've changed some lives… or let's say improved them.
Business: succeeding my dad, John, who started Stelpro (Chalair Electrik at the time) from scratch in 1981 and built it for 25 years until 2006. Many businesses don't make it to the second generation.
To me, balance is everything. Can't be all work, all personal or all family. You have to stay balanced within this "love" triangle. And definitely family, the essence of life comes first in mind. If you're happy at home, work will be fine and you'll have a great, successful personal life. Exercise too; healthy people makes happy people and… more successful! Remember these rules and you will be successful in life. Another way to define success, I guess. And don't forget to have fun, life must be fun and enjoyable, we have only one chance at kicking the can, let's not blow it! Work hard, play hard. I can live with that.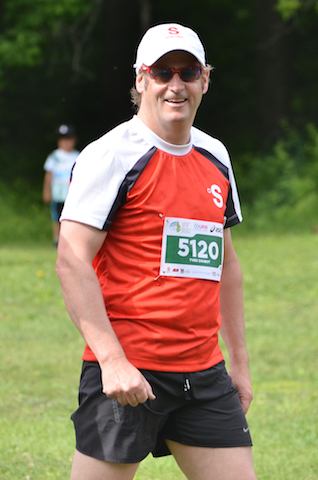 If you could relive the last 10 years of your life, what would you do differently? 
Nothing! Life has been great, and I mean GREAT so far for me. I'm very fortunate in life. I work hard in every aspect of my life to make it great and it works! I take nothing for granted. You have to help yourself, not rely on others. You are the first ingredient of happiness and your own success!
What decisions do you find are the most difficult to make?
The ones that might touch or impact other people. You want people around you to be happy and secure. In Stelpro's case, there are 400 families that rely on our success. 400 great individuals who make it possible. I can't make too many bad decisions! 
What is keeping you awake at night? 
Classic answer: my wife. Sometimes. I sleep well in general. But I get overexcited about too many things — life has too much to offer! That keeps me awake sometimes.
What books and/or magazines do you read?
Business and finance magazines (Fortune, Les Affaires…). The ones that talk about businesses, successful and sometimes less. About the people who run them. I invest in the stock market so I like to read everything related to public companies. I don't have time to read many books, but sometimes books on businesses or biographies. All that inspires me and is part of making me a better manager and president.
What qualities do you feel a successful manager should have?
Understand his role. I personally strongly believe that a team of great people with the right attitude has far more chances to succeed than any one single individual star. People are key to success, not the other way around. Bring the right people on the bus and we'll have a great trip. Don't have to know firsthand where you want to go, we'll decide where we want to go together.
A manager or a leader must lead; this is his role by making sure everything is in place for the team to be successful. I strongly believe that each of my directors at Stelpro is stronger than me in his field of expertise. All these directors make a great team to achieve our goals we've set in place together and to be successful. 
Yes I must take decisions, call shots as they say, must have a general direction for where we want to go or do as a company, but this is done with the team. I'm a strong character, maybe too much sometimes. Does it come with my passion for the business and to succeed? But at the end of the day, I'm a team player, I believe people make the difference and I think it's the single most important reason Stelpro has been so successful and will continue to be.
If you could change one thing about your industry, what would it be?
The electric heat industry? Some people believe electric heat is a poor way to heat your home but these same people embrace driving electric cars! As an industry, we have to change this perception… and we are working on it! I think I will name one of my next product Tesla or Volt.
What industry developments are you most looking forward to? How do you see the industry benefiting from it/them?
Internet of Things (IoT). This is a big game changer and Stelpro will be part of it. At the end of the day, we provide comfort (COMFORT 360) through electric heat, and consumers want and are entitled to have the best comfort in the most efficient way. 
Which emerging technologies do you think will have the greatest impact on our industry in a near future? 
Efficiency comes a lot with the way you control your apparatus. IoT will change that and improve comfort while making this process of heating more efficient. We are just starting to understand all the possibilities that connected products will enable, but that will be big for a lot of companies including Stelpro, all for the consumer's benefit. We always embrace these new technologies. A few decades ago, electronic controls improved the way we use electric heat. I believe IoT will go even further. 
---
Line Goyette is Managing Editor of CEW
More Peers & Profiles from Line Goyette in CEW:
The Laplante Brothers — Two Heads Are Better Than One If Both Excel at Compromising
Among the Dunnigans of Techspan Industries: a Sense of Adventure from One Generation to Another
David Beron — A Resolutely Scientific Spirit in a World that May Not Be Moving Fast Enough
Running Man: Stelpro's Yves Chabot
Cara Backman— Open to Everything, Even Life's Surprises
Nathalie Pilon: A Woman Who Knows Her Own Mind
David Nathaniel: A Talent for Being There at the Right Time
From One Generation to the Other, New Ideas Help the Company Grow
Daniel Peloquin: Just Do It, But Fail Fast
Lina Rishmawi — A New Canadian Who Loves Challenges
Juan Macias — A Commitment to Sustainability and a Call for Innovation