Project Connected Home Over IP Connectivity Standard Developing Into Reality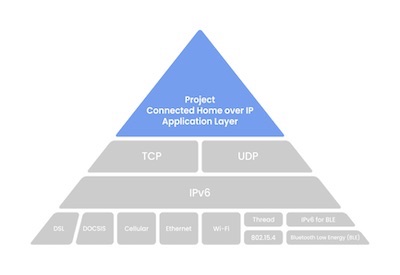 October 6, 2020
When the Zigbee Alliance set out in December 2019 to create a unifying standard for the smart home industry, there was naturally a lot of excitement — and of course, questions. Would this global consortium truly be able to bring this new standard to market? How long would it take? What products would actually emerge? Would we be able to pull off our promise to unify a fragmented industry under a single connectivity standard that would help companies focus on creating experiences over "plumbing"?
Eight months later, we are indeed executing on that vision as our progress has garnered global recognition and strength in membership, participants and technology. We are on track to deliver a draft specification by late 2020, and continue to drive towards our goal of releasing the standard in 2021.
We've grown by an order of magnitude, from a few dozen participating companies to more than 145 active member companies. We are thrilled that four new global strategic companies — ASSA ABLOY, Resideo, STMicroelectronics and Tuya — have joined the Zigbee Alliance's Board of Directors and are actively contributing to and promoting the project. Joining these leaders are hundreds of product, engineering, and marketing experts, working across 30 cross-functional teams, all focused on the brand promise that our connected devices simply just work together.
These teams have been working to refine our architectural overview with a defined understanding of the project's protocol and structure. We have recently launched an open-source repository on GitHub, where we are rapidly iterating on the global open standard, based on market-proven technologies. This repository is an implementation-first approach to the technical specification, vetting integrations in practice. By sharing the repository, we're hoping to bring the benefits of the Project to consumers and manufacturers as quickly as possible.
As the technology stack comes into focus, so do the smart home devices that we are initially targeting, which include lighting and electrical (e.g., light bulbs, luminaires, controls, plugs, outlets), HVAC controls (e.g., thermostats, AC units), access control (e.g., door locks, garage doors), safety and security (e.g., sensors, detectors, security systems), window coverings/shades, TVs, access points, bridges and others. Scoping exercises are also underway for additional consumer electronics products and the commercial industry.

The current global crisis has brought us together in unexpected ways, but with no less enthusiasm or momentum towards our common goal. Our members from across the globe and industry have come together virtually and tirelessly to work towards our collective vision of a unified solution for the smart home industry. If you're ready, come join the Zigbee Alliance and help shape the future of IoT.