Priority Wire Joins ETIM North America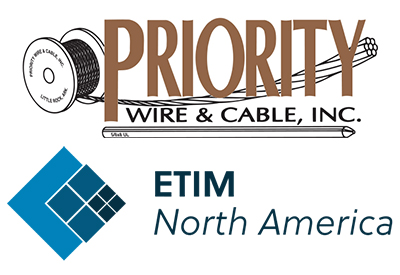 Jan 21, 2022
ETIM North America (NA) announced that Priority Wire joined ETIM NA's classification standards association.
Priority joins over 30 industry leaders including Atkore, Prysmian, Electri-Flex, Siemens, Schneider, WESCO, Sonepar, Graybar, Rexel Canada and IMARK Electrical, as well as many others, in the ETIM NA-led committee activity to build out the classification model according to the needs of the North American electrical market.
"We're excited to have Priority Wire join our group of industry leaders to share their product expertise as we refine the ETIM terminology. Their focus in the wire and cable product category will contribute significantly to our new Wire and Cable Product Expert Group as we seek to add products and their attributes to this important product area." said Mary Shaw, ETIM NA Executive Director. "Wire and cable represent 15-20% of industry sales and Priority recognizes the need for the industry to collaborate and better define the product attributes for these products to help take them out of the "commodity" description."
As a Direct Member, Priority Wire can participate in multiple ETIM NA Product Expert (PE) Groups such as Conduit, and a future Lighting products area.
"Priority Wire looks forward to contributing to, and supporting, ETIM North America," said Rob Strahs, Priority Wire's Chief Operating Officer. "Priority Wire is a modern manufacturer with most of our sales being Priority branded products. We also fill out our product offering, to support our customers, with specialty wire and cable products, sold generically or under other industry leading brand names. Ensuring products are well described and easily searchable is critically to digitally ensuring the efficiency of the industry."
According to Shaw, ETIM NA has made great progress. In two years, the association has recruited over 30 members including eCommerce content providers Distributor Data Solutions (DDS), IDEA and Trimble, key organizations including IMARK Group and NEMRA and countless distributors and manufacturers.
Key product categories to be reviewed in the next 6 months by the various committees include wire, conduit, conduit fittings, transformers, enclosures, fuses, cable tray and wiring devices, to name a few.
For more information about ETIM, or how to become a member, please visit www.etim-na.org