Ouellet Canada Awards EFC Scholarship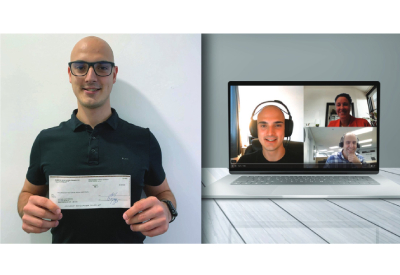 Oct 16, 2020
Ouellet Canada has awarded the Electro-Federation Canada (EFC) scholarship sponsored by Ouellet Canada to Mr. Mathieu Labranche, a student at Université de Québec à Trois-Rivières.
Because of the current pandemic, the meeting was held virtually this year. A cheque for $3,500 was presented by Mr. Louis Beaulieu, General Manager. With this scholarship, Ouellet is supporting students so they can achieve and realize their career aspirations.
Headquartered in L'Islet, on the south shore of the St. Lawrence River in Quebec, Ouellet Canada Group includes several brands, such as Ouellet, Momento, Global Commander and Convectair. The group also owns Dettson Industries in Sherbrooke, Hazloc Heaters in Calgary, Nanjing Ouellet manufacturing plant in China, and now Britech in Ontario.