Ontario Women's Network Webinar: March 4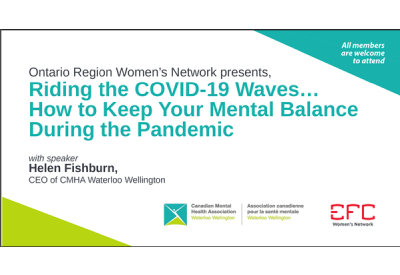 Mar 2, 2021
Join Helen Fishburn, CEO of CMHA Waterloo Wellington as she provides insights and practical examples of staying mentally healthy during a global crisis. Learn about staying well, knowing when you are not, as well as practical skills for self-care and improving your resilience; how to best support friends, family and colleagues, through difficult times and the basics of staying mentally well in the workplace (even if you are working from home).
The virtual event will include a presentation and Q&A throughout session.
*Names are confidential in Q&A session.
If you're interested in making a donation to CMHA Waterloo Wellington, please click on the link below for more information: Donate | CMHA Waterloo Wellington (cmhaww.ca)
Go HERE to register