One of Our Own: Michael's Way a Testament to Community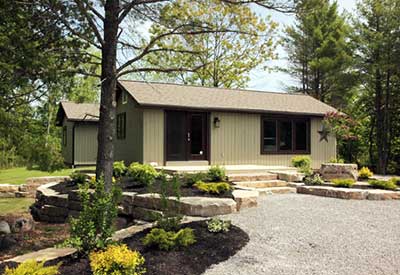 Jason Rhyno
Michael Ruddy worked for Westbourne Ready Electric, doing marketing for the company out of their Oshawa office. He was in the process of furthering his career, studying to upgrade his skills, when he became ill. For a year, Michael saw specialists in an effort to find the source of his illness. As the illness progressed, Michael had to forgo his studying, his career. Then, suddenly, at 31 years-old, he passed away from a pulmonary embolism. He had, his family and doctors would discover later, hemochromatosis, a hereditary condition that causes the body to absorb too much iron from foods, poisoning the liver, heart and pancreas. Hemochromatosis can only be detected with a specific blood test, and in Michael's case, they discovered it too late.
But his memory lives on and it's a memory that could use your support.
Located across from Clear Lake in Ontario's Kawarthas region, Michael's Way is a cottage retreat for chronically ill children and their families. Michael's parents, along with local contractor Gordon Toms, have put their time, energy, hearts and money into building a fully accessible cottage that families of patients at Sick Kids Hospital have free access to from May 1 to October 1.
The Ruddys initially bought the property in Michael's memory in the hopes of developing it into a small park. Then when Toms came across a local cottager looking to get rid of his old A-frame cottage, a plan developed to turn it into a retreat for sick children and their families.
Toms transported the cottage at his own expense, but, as Pat Ruddy explained, "So many people helped out, it's unbelievable." The Lioness Club donated a hospital bed; the local hardware store put in a playground; the water system was donated, the gas furnace and even the guy who did the plastering asked if he could paint a scenic mural on the walls.
"Right now, I'm in the process of putting in a backup generator," Toms explained. Severe storms last year caused the cottage to lose power and while that may seem part and parcel for any regular cottager, when it comes to sick children, it can be detrimental. "We ran into a situation where there was a little boy being tube-fed, but his food has to be kept at a certain temperature," explained Bob Ruddy.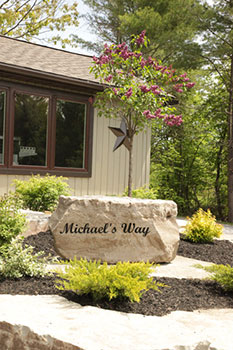 "They came up for a retreat, were here for an hour, then had to turn around and go right back to Toronto," Toms says. "That's not going to happen again."
"We're going to have back-up generators, air conditioning, everything," he says. "All they have to do is bring their food. Everything else is supplied."
After the power issue is addressed, the next project is to build a paved, accessible trail through the property.

"Taxes, light, heat and power, repairs and maintenance, it's all ongoing," Bob notes. "It's quite an undertaking but we're seeing the benefits with the people that come," Toms says, referring to a guest book that the families sign. "Little kids write poems in the guest book," Pat adds. "Most of the people that use the cottage are from the inner city. Visiting the Kawarthas is impossible for them."
And that back-up generator? It's coming out of Toms' pocket.
But, says Toms of the work, "This is something I'd like to do for the kids."
If you'd like to help the kids, too, contact Gordon Toms at 1-705-652-6465 to donate to Michael's Way.