Moving the Needle Forward on International Women's Day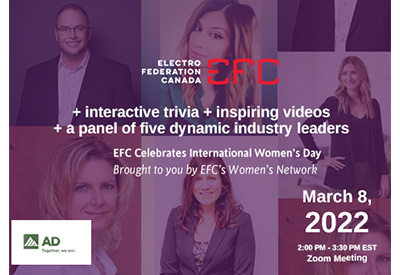 March 2, 2022
By Daniela De Marco, Marketing Manager, Electro-Federation Canada (EFC)
On March 8, 2022, individuals, organizations, industries, and supportive communities worldwide will celebrate achievements, raise awareness, and pledge to take further action to tackle the systemic barriers that can often hold women back. This year's International Women's Day theme centres on breaking gender-conscious and unconscious-bias.
The Electrical and Automation industries are set to take part in this global movement. Our innovative markets thrive on new technologies, superior services, and a talented workforce – and we lean on and learn from one another to empower and support a strong network of diverse people.
In 2019, the industry banded together when EFC launched its Women's Network with partners from BCEA's Women's Network and AEA's Women's Network to offer members from coast-to-coast access to professional development and personal empowerment to support women in the industry. Since then, Affiliated Distributors Canada has joined this important cause as the need expands across industry sectors.
In honour of International Women's Day, EFC will host a celebratory virtual event on March 8th that includes a national panel discussion. The panel will acknowledge the need to mobilize the #BreakTheBias movement and discuss solutions to create a level-playing field to support gender equality across our industry. Moving the needle forward takes a collective effort of community initiatives and individual practices. We are proud that industry peers are ready and willing to make a difference for diversity, equity, and inclusion.
On International Women's Day, we will hear from both women and men who are making a difference for gender parity in the electrical and automation industries.
The panelists include:
Catherine McKeown, Chief People Officer, Hammond Power Solutions
Krystyna LeBlanc, CIO & Director of eCommerce & Marketing, Eddy Group
Salma Siddiqui, Director of Sales, Ascot Capital Group (Stanpro)
Vanessa Ricard, Business Development Lead, Agence Ricard
Rob Dewar, President, AD Canada
All are welcome to join this celebration and critical discussion. Visit EFC's event page for more details; click here. (https://www.electrofed.com/events/efc-celebrates-international-womens-day/)
To learn more about EFC's Women's Network, click here (https://www.electrofed.com/womens-network/).
"Imagine a gender-equal world. A world free of bias, stereotypes, and discrimination. A world that's diverse, equitable, and inclusive. A world where difference is valued and celebrated. Together we can forge women's equality. Collectively we can all #BreakTheBias.