March New Housing Investment Up 9% YOY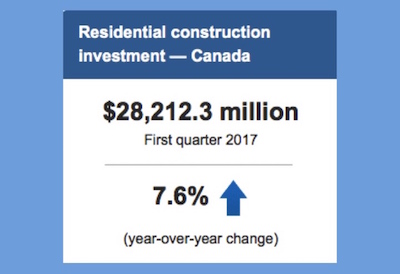 Investment in residential construction totalled $28.2 billion in the first quarter, up 7.6% from the same quarter of 2016. Higher investment in single-family dwellings (+13.7% to $6.5 billion) accounted for nearly 40% of the change at the national level. Renovation work (+5.5% to $12.1 billion) and acquisition costs related to new dwellings (+13.4% to $3.4 billion) also largely contributed to the gain.
Investment in residential construction increased year over year in eight provinces in the first quarter, with Ontario (up $1.1 billion) accounting for more than half (56.8%) of the total national increase. Quebec also posted a significant increase ($544.4 million). In contrast, Saskatchewan (-$85.0 million) and Newfoundland and Labrador (-$17.1 million) posted losses compared with the first quarter of 2016.
Alberta recorded its first quarterly year-over-year gain (+2.9% to $4.1 billion) in residential construction investments since the second quarter of 2015. This advance was largely attributable to a $362.5 million increase in renovation spending stemming partly from the reconstruction of residences that were destroyed by the 2016 Fort McMurray wildfire.
In Ontario, the gain (+10.4% to $12.0 billion) originated mainly from higher investment in single-family homes (+$591.8 million).
In Quebec, growth (+12.9% to $4.8 billion) was mainly attributable to a $370.9 million increase in renovation work.
Source: Statistics Canada, www.statcan.gc.ca/daily-quotidien/170602/dq170602d-eng.htm.