March Electrical Demand Drops 5.1% Year over Year
Canada's demand for electricity in March totalled 50.1 million megawatt hours (MWh), down 5.1% from March 2014 levels. Lower demand in Quebec, Alberta and British Columbia contributed to the decline. With the drop in demand, electricity generation fell 1.3% to 55.2 million MWh.
Lower domestic demand also resulted in much weaker imports of electricity from the United States. Electricity imports in March declined 1.0 million MWh compared with March 2014 to 0.9 million MWh, while exports rose 20.6% to 6.0 million MWh.
Chart 1: Electricity generation and consumption
Canada's decline in demand for electricity was led by lower demand in Quebec, down 7.5% to 20.1 million MWh in March. As a result, electric power generation levels declined 2.7% to 19.5 million MWh. With provincial demand dropping, Quebec decreased the amount of electricity purchased from both the United States and other provinces (-12.7%). At the same time, it increased deliveries south of the border and to other provinces, including Ontario, Newfoundland and Labrador and New Brunswick.
In New Brunswick, receipts from other provinces nearly doubled to 0.4 million MWh to meet provincial demand, as generation levels in the province fell 14.5% to 1.3 million MWh. Lower generation in New Brunswick was attributable to a maintenance outage at a generating station. In addition, New Brunswick exported 8.4% less electricity in March to meet provincial demand.
In Western Canada, both Alberta and British Columbia recorded double-digit declines in demand. In Alberta, demand fell 15.3% to 5.1 million MWh. In British Columbia, above average temperatures contributed to a 13.4% decline in demand to 5.0 million MWh, which helped push imports from the United States down 38.6%.
Chart 2: Total electricity available by province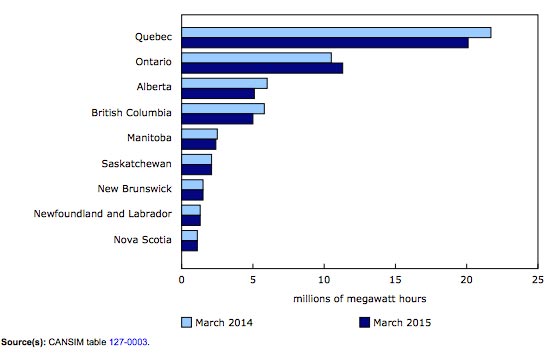 Demand in Ontario rose 6.8% to 11.3 million MWh in March, mitigating the national decline in demand for electric power. To meet increased demand, generation levels in the province grew 7.5% on a year-over-year basis to 13.2 million MWh. This was the sixth increase in generation levels in seven months, with gains over the period mainly attributable to nuclear power. With higher production levels, Ontario increased the amount of electricity sent to the United States by 35.3% to 2.2 million MWh in March.