Magic Lite Announces New Sales Agents for Quebec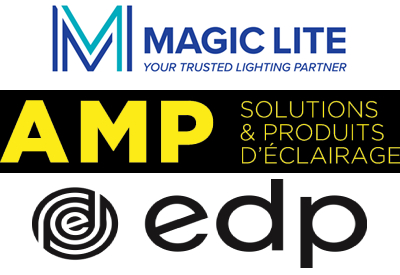 Feb 16, 2021
Canada's trusted source for architectural and specialty lighting solutions, Magic Lite, is pleased to announce the signing of new specification and distribution sales agencies in Quebec, edp and AMP.
Both edp Inc., in Montreal, and AMP Inc., in Quebec City, offer innovative and growth-minded company cultures, dynamic leadership teams and outstanding levels of service to serve their clients' sophisticated requirements.
"At Magic Lite, we share the same priorities as edp and AMP and look forward to this alignment with both agencies," says Ian Smith, Magic Lite's VP of Development. "The team at edp offers the unique combination of enthusiasm, experience and the ability to see long term opportunities while the young, dynamic team at AMP offer new solutions with the depth of knowledge needed to carry out their vision."
"I've had the pleasure of working with both teams for the past 15 years and we at Magic Lite are looking forward to working alongside these two agencies in the Province of Quebec," says Smith.