John Speck Positions Gescan to Be the Premier ICT Design-Build Partner for Customers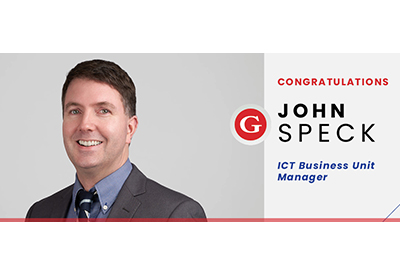 February 24, 2022
Gescan is pleased and excited to announce the promotion of John Speck to Information Communications Technology (ICT) Business Unit Manager. A Registered Communications Distribution Designer (RCDD) and Certified Data Center Design Consultant (DCDC) with 18 years of experience in the field, John is growing and leading their team of ICT Specialists in assisting customers with the design, supply and installation of high-performance cost-effective ICT systems. From smart homes to data centers, Gescan supports customers as their demand for communications infrastructure continually increases. "Whether your company is an experienced data center integrator or starting to install network structured cabling systems – we're here to support with application knowledge, product selection and local inventory," said John.
Before joining Gescan in 2017 as a Network and Data Centre Infrastructure Specialist, John began his career selling and specifying electronic enclosures and cooling systems before moving on to technical sales in various regional and national roles focused on enterprise networks and data centers. John has been the prime consultant for multiple data center projects across Western Canada, including the design and construction of a high-efficiency, high-density data center in British Columbia that hosts the most powerful Super-Computer in Canada. The project was awarded the Vancouver VRCA Silver Award for construction excellence in 2017.
"I've seen many projects move through design and procurement from a consultant, wholesaler and supplier perspective. Seeing all sides has helped me to understand what is needed from each party to have a successful outcome." John continued, "There are many facets of projects that can be improved by increasing the synergy between the design, contracting, supplier, owner and commissioning teams. We know what we sell, we have a great projects team behind us, and we budget accurately."
John explained that being a partner in a project from the start is helpful to achieving project goals, "Getting involved early and using your expertise to help develop the project requirements is key in controlling costs."
John has built long-term relationships with customers on the principle of only recommending the best systems to suit their needs and always putting their interests above all else (even if it means recommending a competitor), "It's important to listen to what the customer needs to achieve success and make that your priority."
Working to expand the ICT team from four members to 12 over the next few years, John's plans include hiring new specialists with expertise in different areas of IC, such as Fiber optics, Converged AV, PoE Lighting, Security, Commercial Wifi and Smart Home Automation. He is also aligning multiple departments under a singular strategy for ICT and creating tools to make the selling process easier for us and shopping easier for our customers. Another major focus for John is having readily stocked and available inventory in all our branches to instantly meet customer needs. "I am building up our assortment to the point where the products that we market, that our salespeople are trained on and the inventory we have is all synergized and easy. A customer will be able to walk into a branch and pick up everything they need to build out an IT network from stock without delay," said John.