Industry Insights with Owen and Warren Osak, Founder and CEO of Electromate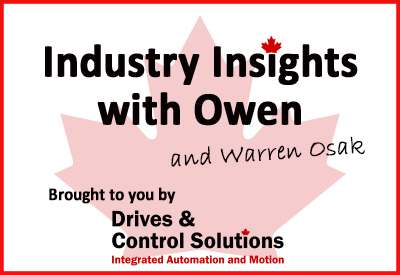 June 24, 2019
By: Owen Hurst
In this issue of Industry Insights with Owen I had the opportunity to sit down with Warren Osak, founder and CEO of Electromate.
Speaking with Warren it is very clear he is a straight shooter with an abundance of knowledge, and passion for robotics, mechatronics and the general motion and motion control industry. Warren has a HBSc in biochemistry from the University of Toronto that provided him an ability to understand the complex calculations required to work with motion control. And understand it he did, authoring a text book in 1996 titled Motion Control Made Simple.
Warren first worked for several prominent motion control producers in the early 1980's however at the time there was still some hesitancy among manufacturers about the future of motion control. However, Warren acting on suggestions put forward by some of his colleagues that recognized the value and future of the motion industry, founded Electromate in 1986 to serve the Canadian market. The goal was to ensure that these important products and growing market was advancing in Canada, and Warren has been working to ensure this ever since.
Digging deeper Warren provided some very rich and interesting information regarding integrated motion in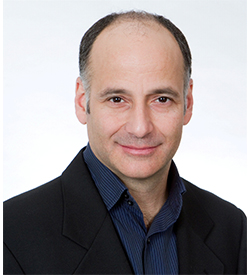 Canada and about his company Electromate.
Electromate's core message states that you provide 'motion control at the speed of technology'. Do you ever feel that the technology is outpacing the industries ability to implement it?

No…certainly early adopters of the latest technology have a first mover advantage which makes their machines more competitive globally, but eventually the rising tide of the advancing technology raises the technology bar in all industries. The challenge Industry faces is finding the right talent to embrace and employ the new technology.
Once the technical people component is in place, Industry quickly embraces the latest technology, which by the way, is generally less expensive and has higher performance.
Electromate is not just a distributor but a solution provider that also offers turnkey onsite installation. Is this a trend among industry distributors and do you think we will see an increase in distributors offering full solution options?

Personally I don't see a trend among distributors to ramp up their value-added services such as onsite installation. It's specific to Distributors in certain technology spaces, such as Vision System Distributors who are usually required by their customers to provide a 'proof of concept integrated solution', and Robot Distributors who need to accessorize their product offering with safety systems and end effectors to provide a complete solution mandated by their customers.
The entry cost for a Distributor to get into the Integration Business is quite high which is a natural deterrent, plus Distributors run the risk of competing with their Integrator Customers which is never a good idea.
There has been some interesting advances among the use of roller-screw actuation devices, what advantages do these offer over more traditional methods of actuation?

Roller Screws (also called planetary roller screws) have very high force transmission capabilities since roller screw components are designed with a fine pitch thereby providing more points of contact and a larger contact radius resulting in less stress per point of contact. As a result, they can deliver very high force, operate at high speeds, are long-lasting and require little maintenance. The use of planetary roller screws allows engineers to specify electric actuators in applications that were once the sole domain of hydraulic cylinders.
The adoption of Roller Screws in high force linear motion applications has been slow to take off, but as we saw with the adoption of Electric Rod Style Actuators to displace Pneumatic solutions, it will take some time but will eventually become a universally acceptable preferred solution. Currently the total cost of ownership of a hydraulic cylinder is already higher than a Roller Screw Actuator, although the unit cost is not.
There has always been and will likely always be some level industry discussion surrounding product miniaturization and standardization, what benefits do feel these offer?
We don't hear much discussion surrounding miniaturization in the automation space primarily because the trend is an unstoppable force of nature. Moore's Law has held true for over 50years. Simply put, companies that don't miniaturize their products (or at least increase their power density in the same footprint) will see their market share dwindle quickly. Companies who generate 40% or more of their revenue from products that are over 6years old are at the greatest risk.
Standardization is another matter altogether. Here there is considerable industry discussion, and rightly so. New universally accepted Safety Standards, Open Source Communication and standardized Distributed Fieldbus Protocols have homogenized a once fragmented industry. Interoperability is a huge benefit to customers in all industries and is the primary driver of the fourth industrial revolution, also known as Industry 4.0.
Industry 4.0 is a name given to the current trend of automation and data exchange in manufacturing technologies. It includes cyber-physical systems, the Internet of things, cloud computing and cognitive computing. Without industry standardization, Industry 4.0 doesn't exist.
What is the most revolutionary trend you are currently witnessing in the motion control industry?

Two revolutionary trends stand out. Innovative changes in Motors & Feedback Device construction and design.
There have been big advancements in the construction of servomotors. The physics of optimizing the magnetic flux generated from rare-earth magnet assemblies (and new production techniques) have leveraged improvements in motor designs. So, we're seeing continued improvement in the torque density of servomotors well beyond what I once believed achievable.
In layman's terms, the torque output one could get out of a NEMA-34-frame servomotor from eight or 10 years ago is now achievable with a NEMA-23-frame servomotor. In the same way, torque output of a NEMA 23 frame servomotor from eight to 10 years ago is now what today's NEMA-17-frame motors can produce. So, motors are definitively more power dense than in the past — and in fact for a given package size, there's 50 to 100% increase in torque output versus motors produced a decade years ago.
Sensor technologies seem to be advancing about twice as fast as other components used in motion-control systems. New developments for feedback devices also outnumber those for servo drives, rotary actuators, linear actuators, and motors — and I don't know why that is. There's certainly a lot of cutting-edge R&D in the world of feedback devices … so the pace of advancement in Encoder (especially inductive and capacitive types), Resolver, and Linear Variable Differential Transformer (LVDT) designs has just been astounding.
Further to the questions asked above Warren was happy to chat about other developments he sees that will alter or act as a disrupter to the industry. The primary point he noted is the rise in 3D printing. 3D printing is so far beyond making simple objects now, to the point where we are now seeing components being printed for motors and motion technology. As this continues to grow it is likely that we will see disruption in the primary production methods. 3D printing is something to keep a very close eye on over the next few years.
Connect with Warren on LinkedIn – https://www.linkedin.com/in/warrenosak/