Hubbell Lighting to Integrate Bacteria Suppressing Technology into Smart Luminaires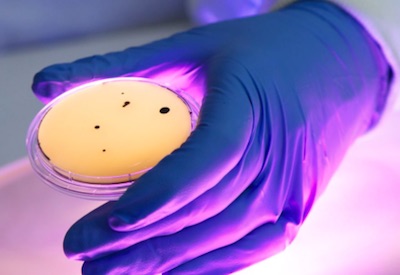 June 18, 2018
The University of Strathclyde in Glasgow, Scotland has named Hubbell Lighting executive licensee of a technology that can suppress bacteria in the air and on surfaces using a narrow spectrum of visible light. The high intensity narrow spectrum lighting technology has been shown to reduce bacterial pathogens in the environment at a far greater rate than cleaning and disinfection alone.
"Our agreement with Hubbell Lighting opens the door for the food and beverage industry and other sectors to benefit from our continuous disinfection technology, helping them keep consumers even safer," says Scott MacGregor, vice-principal of the University of Strathclyde and leader of the research team that developed the technology.
Hubbell Lighting will integrate the technology into its portfolio of smart luminaires and develop specialty products for use in strategic industries. Included in the exclusive license are areas of congregation and the food and beverage industry, which could involve everything from food processing to restaurants.
The technology was developed in the university's Robertson Trust Laboratory for Electronic Sterilisation Technologies, which is dedicated to controlling infection in a wide range of settings.
Photo source: University of Strathclyde