Highlights from EFC's Industry Conference: 'Ties That Bind – Stronger Together'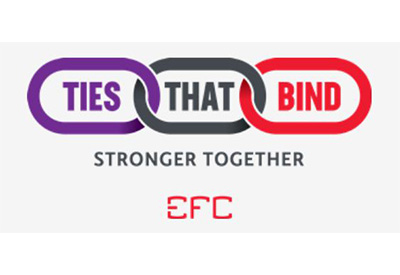 June 13, 2022
By Daniela De Marco, Marketing Manager, EFC
EFC's 2022 Industry Conference was electrified by nostalgic connections, new visions, and next steps to bring our industry forward stronger together. Set in beautiful Whistler, BC, and virtually connected across Canada, this conference accounted for many 'firsts' including:
Highest attendance to date: 600+ in-person/online attendees.
First hybrid industry conference: 10 speaker sessions, including breakout sessions to provide flexible programming and diverse interests, live and OnDemand.
The first hologram speaker presentation beamed in from Toronto.
30% of attendees were first-time participants.
Two sold-out golf tournaments.
Along with the list above, it was my first EFC 'in-person' conference experience after three years of working with the team and hearing stories about all the good times from the past.
This time, there was an unexplainable electric energy amongst the crowd. It has been a long while since we could gather members together as we remembered it – and naturally, we are wired as humans to build connections, so some could say it was long overdue. But the energy was buzzing and made the week that much more special. These past two years taught us how adaptable we are as humans but also reminded us how essential face-to-face interactions are.
The first day of the business program opened with futuristic keynote speaker Andrew Au, who beamed himself into Whistler from Toronto as a 'hologram.' Andrew shared his view into the future and the pathways needed to prepare for future work strategies. Chris Turner, an expert on sustainability, climate change, cleantech, and the global energy transition, provided a guided tour of this world of renewed prosperity and reinvigorated community. Ben Clark from the Canada Green Building Council shared highlights from this study (sponsored by EFC), profiling new pathways to accelerate GHG emission reduction targets through low-carbon, large building retrofits. Learn more here
Breakout programs included Electric Mobility Challenges and Opportunities for the industry with Daniel Breton, President, and CEO, Electric Mobility Canada. And the Rules of Engagement when searching for an IT provider to protect your data and systems were presented by Steven Taylor, President and CEO of Ignite Technology, and Doug Thubron, President of Ignite Solutions.
The afternoon concluded with an industry panel hosted by the CMG titled Manufacturers and Reps, Moving Forward…Defining Roles and Expectations. Opening remarks were presented by Brent Norrey, CEMRA Chair, and Tony De Cicco, CMG Chair facilitated the session. Panelists included John Richardson, Anamet Canada, Jennifer Eastman, CSC LED, and Dave LeCappelain, KM Roberts, and Patrick Deschamps, Contact Delage.
The second day of the Business program was energizing. Carol McGlogan, President and CEO, EFC, took a seat with Janice Gross-Stein, for a conversation on globalization and business affairs, where listeners hung on to her every word, and we all could have listened to her for a few more hours. Diversity, Equity & Inclusion was a leading topic that included inspiring and informative insights from Michael Bach, followed by an industry member panel that examined how we can establish industry baselines and cadences to track progress for DEI efforts. Panelists included Cory Morris, Graybar Canada, Tim King, Southwire Canada, Catherine McKeown, Hammond Power Solutions and Vanessa Ricard, Agence Ricard. Closing keynote, Pam August, Former Director, Culture Activation at WestJet, said, "a crisis is a terrible thing to waste." The global pandemic has unfrozen us from long-held patterns of "being," united us in a "remember when moment," and created a uniquely sticky time that is valuable for shaping our business cultures. Some questions Pam left us with were: what are the things you want to have stick with your organization? What are the most important ways of "being" do you want to embed moving forward?
Along with the 'food-for-thought' from the business programs, there were plenty of networking opportunities available with channel partners throughout the week.
EFC's Young Professionals Network (YPN) members hosted a YPN reception and indulged members to learn a 'hole' lot more about the network with a doughnut station. The CEMRA and CMG activities included a 'Party on the Peak' and ice cream station. Head Office and Electro-lounge meetings were in full gear – members made the most of the opportunity to meet in person. The opening reception on the Fairmont rooftop featured indigenous people's culture through music, wood workings, and the art of weaving. The Awards dinner was highlighted by a Northern lights experience. After dessert, the following awards were presented:
Congratulations to all Industry Award Honourees:
Industry Recognition Award: Mark Schroeder, Rockwell Automation (retired)
Trailblazer Award: Russ Morgan, IPEX
CEMRA Person of the Year: John Richardson, Anamet Canada
Corporate Engagement Awards: Leviton Canada (Manufacturer); Electrozad (Distributor); Intralec (Manufacturers' Rep)

Stay tuned for article interviews by Jade Hosick, EFC, featuring each award recipient.
EFC Board Change of Chairmanship
EFC held its Annual General Meeting during the plenary conference program. David Nathaniel from Ascot Capital Group stepped down from his post as EFC Chair, and Frank Cistrone from Shawcor was named the incoming Chair for 2022-2023. We thank David for his outstanding leadership throughout his term!
NAC Change of Chairmanship
EFC's National Advisory Council (NAC) also changed its chairmanship. Cindy Doherty, Intralec, served as NAC Chair for the past year. Jason Prevost from Leviton Canada was appointed the incoming Chair for this advisory group. Thanks for a resilient year, Cindy! Jason, we're excited about your leadership this year.
CEMRA Recognitions
Three CEMRA reps have concluded their long-standing term on the CEMRA board.
Brent Norrey, CEMRA Chair, Roney Marketing, presented plaques to
Kenneth Russel Murray, Electraspec, Quebec Region
Phil MacPherson, Brockway Enterprises, Atlantic Region
Tiffany Pesteluky, Hi-Tech Sales, Manitoba Region
This wraps up my highlights from the conference. Thank you to all who attended in person or virtually. A special thank you to the generosity of our Conference Sponsors for supporting the success of the programs and events and our Corporate Sponsors who support us all year long, and for being present with tabletop displays during the business programs.
Save the date: EFC's 2023 Industry Conference from May 30 to June 1 will be held at the Fairmont Le Manoir Richelieu in Charlevoix, QC.
Visit HERE for more information.