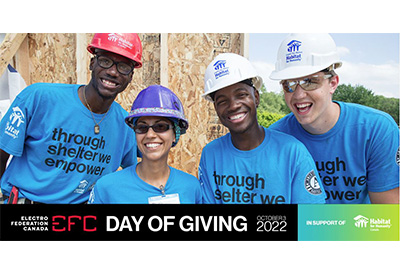 August 31, 2022
On October 3, World Habitat Day, Electro-Federation Canada (EFC) members and their business partners are joining forces for the 2nd Annual EFC Day of Giving in support of Habitat for Humanity Canada. Together, they hope to raise $250,000 to help families gain strength, stability, and independence through access to affordable homeownership.
Lack of affordable housing leaves many families without safe, stable, long-term homes to call their own. They are left making do with what they can find, paying too much in rent and living in places that need major repairs. Together, everyone can change that.
Thanks to your commitment, last year's EFC Day of Giving raised over $200,000 to help 212 families and built 161 new homes. The impact has been great but there is still more work to be done.
EFC has partnered with Habitat Canada as its Charity of Choice
Like Habitat Canada, EFC strongly believes that everyone deserves a safe and affordable place to call home. Habitat Canada knows affordable homeownership empowers Canadian families with a sense of pride and independence. A number of EFC members are strong supporters of Habitat Canada. Many member companies not only contribute financially but also provide product and volunteer support to Habitat affiliates across Canada.
View the 2021 Habitat Impact Report here. Visit the EFC Day of Giving Donation Page here.