Franklin Empire Announces New Headquarters by Montoni to Support its Growth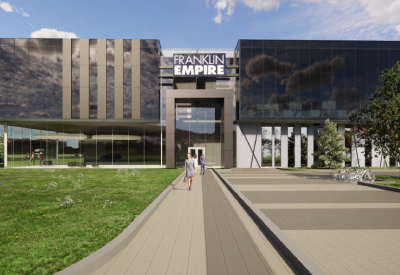 June 8, 2022
Franklin Empire Inc., the largest independently owned electrical distributor in Canada, and MONTONI are excited to launch the construction of the company's new headquarters designed to support future growth. This family-owned 4th generation company is also celebrating its 80th anniversary this year. In summer 2023, Franklin Empire employees will move into their new facility of nearly 190,000-square-feet, conveniently located along Autoroute 40 at the junction of Autoroute 13 in Saint-Laurent and close to the Ericsson and VSL campuses developed by MONTONI. The building, which will be targeting a LEED certification, will triple the firm's warehouse space and double its office area, while improving the customer experience and providing employees with a work environment adapted to the new reality of today's job market
Among other features, the new facilities have been designed to improve the daily lives of employees by offering an open, welcoming design with plenty of natural light. Several meeting spaces will be available for collaborative work, training, and events. The property will include a bicycle and pedestrian path, a gym, various green spaces, a cafeteria with an outdoor patio and barbecue area, as well as priority access to the CPE daycare centre on the Ericsson campus.
"For 80 years, Franklin Empire has focused on providing leading-edge service tailored to its customers' needs. This has always been our priority. With our new LEED headquarters built by MONTONI, we want to offer our employees an ideal work environment to pursue this ambition and support our growth in the years to come."

– Bernie Backman, Co-President, Franklin Empire
LEED-Certified
Because energy management is the heart of Franklin Empire's operations, it was essential for the company to aim for at least LEED Silver certification for its headquarters. Internationally recognized for sustainable buildings, the distributor certifies the sustainability of the facilities through its design, construction, and operation. MONTONI is a leader in green buildings in Québec, and it was a natural partnership for the two companies. Franklin Empire's new offices will be used to showcase products as an inspiration for their customers, who will be able to view the best products and solutions on the market.
"This first collaboration with Franklin Empire is consistent with our vision, as it allows us to maintain our commitment to building a sustainable heritage for Québec, while supporting the growth of a truly homegrown family business."

– Dario Montoni, President, MONTONI Group