Experiencing SWiDGET Control: The EFC Team's Remote Visit to SWiDGET's Studio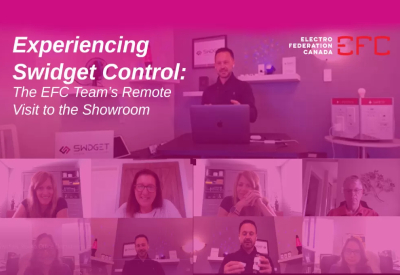 Dec 18, 2020
Last month, Justin Arghittu, Director of Sales – North America, and Catharine Ogilvie, Director of Marketing at SWiDGET invited the EFC team, Anne Harrigan, VP, Marketing Resource, John Jefkins, VP, Member Engagement & Corporate Partnerships, and Daniela De Marco, Marketing Specialist, to virtually experience the SWiDGET studio and learn about the technology and capabilities their smart devices have to offer.
The SWiDGET product concept is a unique, proprietary, one that falls under the umbrella of IoT and Smart Home Automation. It is a novel idea that allows electrical devices, such as outlets, switches, and dimmers, to be the host for an easily installed smart insert. SWiDGET inserts add convenience and energy use monitoring features, such as emergency lights, guide lights, and USB chargers, as well as sensors that monitor for air quality, temperature, humidity, motion, air pressure, to name just a few.
"The future is endless for Swidget," says DeMarco. "Their thoughtful design and versatile features give them a very appealing edge in the market." John Jefkins also added "I was amazed that I could instantly control the disco light, lava lamp, air fan and zone lighting all from the Alexa app."
SWiDGET's design separates the base device (outlet and switch) from the modular smart insert. Anything that is unlikely to change is housed in the power or wired component of the device and everything that is likely to change with the advancement of technology, such as Wi-Fi 6 or 5G, is housed in the modular insert. This makes SWiDGET future-proof.
With the global impact of COVID-19, selling electrical products has taken on a whole new frontier.
Meeting with customers face-to-face may not be possible for most organizations such as SWiDGET, but they have embraced this challenge as an opportunity and offer an interactive experience that showcases the full capabilities of their smart devices. As Anne Harrigan shares, "Having full access to the SWiDGET studio from my home office gamified my experience. Well done to the SWiDGET team!"
In the new year, it can be anticipated that EFC members will continue to pivot and discover new ways of selling as the pandemic continues to influence long-term sales practices. Electro-Federation Canada will be here to share these best practices and support the initiatives of our membership.
Go HERE for more information on SWiDGET