ETIM North America Adds 8 Members (WESCO + 7 Manufacturers)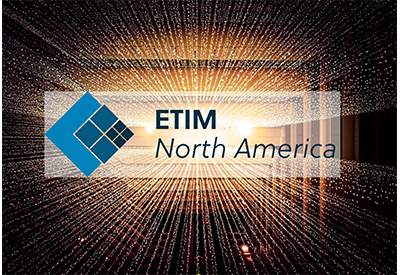 May 2, 2022
ETIM North America received the support of eight more leaders in the electrical industry and now has 36 companies to help lead the charge to improve product classification and attribution for the electrical industry and drive digital transformation for the industry.
ETIM, which is a global product classification model, may be one of the reasons why the North American electrical industry has lagged the European market, where ETIM was founded over 30 years ago, and ETIM recently approved its 25th chapter in Australia and is working to enter the Brazilian market, a truly global standard.
In North America, distributors typically source the product content for there ERP systems from either IDEA, Trade Service or direct from a manufacturer with the common source being the manufacturer.
eCommerce product content also originates from the manufacturer and could be provided to the distributor via Distributor Data Solutions, IDEA (and AD gets its core data from IDEA and is IDEA's largest customer), Trade Service (Trimble) or direct from the manufacturer
And here's the challenge, and the opportunity to improve the industry, not solely one company's limited group of customers.
The data starts with the manufacturer. Some product data providers append, or want to append, additional information and in some cases, they essentially act as a pass through. For eCommerce content, manufacturers provide varying levels of attributed, and additional information to different sources based upon the ease of providing that information to the source.
With the ETIM standards, which are being reviewed and refined by a collaborative group of subject matter experts from participating companies, features and values for product classes are approved whereas marketing information is preserved as that is considered separate information.
And the ETIM model enables information to seamlessly flow from the manufacturer to reps through to distributors (electrical as well as MRO and others) to contractors, engineers, and others. This is one of the reasons why Trimble is a member of ETIM.
ETIM North America Makes Progress.
Last year IDEA reported that almost 500,000 SKUs in its data warehouse had ETIM class codes provided by manufacturers. Granted this was probably from a few manufacturers and more work needs to be done as, according to Distributor Data Solutions, there are more than 4,000,000 electrical SKUs in the industry (this is what they have in their eCommerce content database). By electrical we're including all segments – electrical, lighting, automation, etc.
ETIM North America has now reviewed and refined 101 ETIM class codes and another 64 are awaiting final approvals from one of the Product Expert Groups.
New ETIM North America Members
Since Decembers, new members include:

Globally Supported by Electrical Distribution's Largest Companies
Only an independent standards organization that utilizes globally accepted models can have an enduring benefit for the industry.
In fact, some of the electrical industries largest global players are supporting ETIM International globally. Prysmian, Rexel, Sonepar, Schneider and Siemens have all recently become Global Industry Members, a new level of support for the standard.
Comments from leaders at these manufacturers include:
Prysmian –"Sharing is multiplying! For Prysmian Group, ETIM is fundamental for the most efficient classification and with that the access to exchange the correct data in multiple languages to make our cables, concepts, and sustainable solutions visible and available in all the search engines."- Rob van Veen, Prysmian Group Senior Vice President Energy & Infra.
Schneider – "ETIM is a key standard in our business, managed at different levels in our organization, in the countries close to our partners, and globally for data governance. This is why this global membership makes sense for us, being a great opportunity to extend our connections to the ETIM community and contribute to make ETIM even more efficient for ourselves, our partners and our end customers." – Dominique Erramoun, Offer Data Governance Manager in charge of ETIM at Schneider Electric.
Siemens – "Without a product information system like ETIM, data has to be supplied in a number of different formats. That takes a lot of time and leads to a repetition of tasks. Plus, the probability of errors is also higher. Business processes between Siemens, the distributors and the end customers have become so efficient with the introduction of ETIM. It's hard to imagine how we managed before", sums up Sales Process Manager Thomas Otto-Kosanke.

Takeaways
After only two short years, in arguably the toughest environment to launch a new business virtually, and with limited resources, ETIM North America has achieved much from a membership recruitment viewpoint and code class review.
The next step is accelerating code class review in the current Product Expert Groups, recruiting additional members for these groups to gain further adoption. Later in the fall additional Product Expert Groups will be launched.
To accelerate the code class review, ETIM North America needs additional subject matter experts from its members. These are people who know product, are process-oriented and willing to give back to the industry.
With IMARK and NEMRA also being members, any individual from members of these organizations can contribute to sharing their product expertise. (If you are willing to volunteer and share your expertise, contact Mary Shaw, Executive Director of ETIM North America.)
While reviewing product content and collaborating on features and values can seem repetitive and tedious, it's necessary for moving the industry's digitalization efforts forward and, most importantly, it is critical that it is done right the first time. ETIM North America has acquired innovative software to streamline the process that will allow volunteers to participate remotely.
To optimize the potential of digital transformation in the North American electrical market needs to improve the foundation of its product classification infrastructure. It only makes sense to adopt a model that is proven (over 30 years), flexible (is refined for each geographic market), is language and operating system independent and is available to the entire industry (all distributors, all manufacturers, all levels of the channel.)