Electrical Safety Authority Announces New Chair and New Member Appointments to the Board of Directors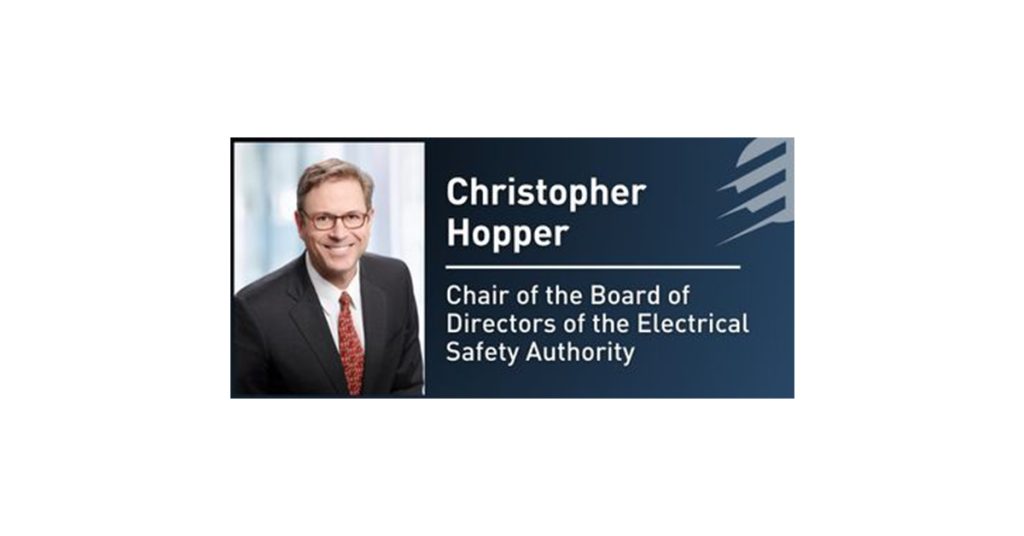 July 31, 2023
Christopher Hopper has been selected as Chair of the Board of Directors of the Electrical Safety Authority (ESA).
Three highly qualified new Board Members have also been appointed. 
"As outgoing Chair and on behalf of our Board of Directors, we are pleased to announce that Christopher Hopper has been appointed among the board members to Chair the ESA Board of Directors. Christopher's experience as a Licenced Electrical Contractor, a deep understanding of ESA and extensive external board experience made him an excellent candidate for this role," said ESA Chair Annette Bergeron. 
Mr. Hopper has served on the ESA Board since September 2015 and currently serves as Chair of the ESA Audit and Investment Committee. His appointment will take effect on August 1st. He is President and CEO of Complete Electrical Services Inc. and KLQ Mechanical Ltd. He serves as Chair of Post 21 Foundation and is a former Director of The VentureLink Fund, a former Vice Chair of Holland Bloorview Kids Rehabilitation Hospital Foundation and Trustee, Holland Bloorview Kids Rehabilitation Hospital.
Mr. Hopper took the opportunity to thank his colleagues and outgoing Chair Annette Bergeron. "We would like to thank Annette for her steady hand helping steer the Board through the last few years, especially through the pandemic. She has elevated the profile and professionalism of the Board and brought a rigorous focus to diversity and inclusion."
ESA, with the assistance of an executive recruitment agency, conducted an open and public recruitment process over the last few months. These appointments are three of nine board of directors appointed by the ESA Board. The remaining board members are appointed by the Minister of Public and Business Service Delivery.
The ESA Board also appointed the following new Directors:
Mary Anne Aldred: Ms. Aldred has over 25 years experience in the energy sector and is currently an energy regulatory lawyer practising at Norton Rose Fulbright. Prior to this role, she was General Counsel and Chief Operating Officer of the Ontario Energy Board. This appointment is effective July 11, 2023.
Audrey Kroon Lowther: Ms. Kroon Lowther is the owner of Kroon Electric Corp. and provides electrical asset management services to Eastern Ontario and Quebec. She has extensive experience in the electrical trade and construction industry. She is IAPA (Incident Accident Prevention Association) Certified and served as a member of the Ottawa Construction Safety Group Committee. This appointment is effective September 24, 2023.
Jeanette Southwood: Ms. Southwood is a Professional Engineer and executive with more than 20 years of experience advising organizations across many sectors. Presently, she is the Vice President, Corporate Affairs and Strategic Partnerships with Engineers Canada, based in Ottawa. She has a strong board service record including contributing in areas related to risk oversight and strategy development. This appointment is effective December 4, 2023.
"Christopher has always been a very engaged board member with a passion for safety and we expect a seamless transition as he assumes the Chair role. ESA is also immensely grateful to Annette and outgoing board members Adele Malo and Gary Oosterhof for their dedication of service and commitment to the Board and electrical safety," said Josie Erzetic, President and CEO of ESA.  She added, "We are also thrilled to be welcoming three new board members and the extensive experience that they will be bringing to the Board with knowledge in law, electrical contracting and engineering."