Elemental LED Expands into Canada with Focus Electrical Sales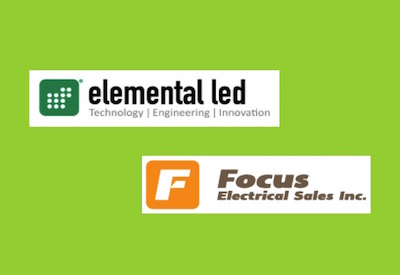 June 24, 2016
Elemental LED, a U.S.-based engineering and technology company that manufactures LED lighting solutions, has partnered with Atlantic Canada's Focus Electrical Sales Inc., which will introduce Elemental LED's award winning Diode LED product brand into the country.
Elemental LED and its manufacturing and wholesale division, Diode LED, provide a wide variety of linear, task, and accent LED lighting solutions for both residential and commercial applications. Focus Electrical Sales is a leading lighting solution provider in Atlantic Canada, with offices in Moncton, NB, Bedford, NS, and St. John's, NF. The company has expertise in lighting controls and relationships with leading electrical distributors and architectural firms in the region.
"Focus Electrical Sales has deep roots in the specifier market and the commitment to their customer's success makes them a great fit for us," says Barrett Cook, Director of Business Development for Elemental LED. "We are particularly excited to be working with such an experienced and established team to grow the Diode LED brand in Eastern Canada."
"The configured solutions offered by Diode LED are a perfect match for the many architects and specifiers that we serve," says Alex LeBlanc, Principal of Focus Electrical Sales. "We are extremely pleased to add the popular and innovative Diode LED brand to our portfolio of complete end-to-end solutions."
Find out more about Elemental LED and Focus Electrical Sales Inc.