Electrozad's Dave Taylor – a steady hand on the tiller…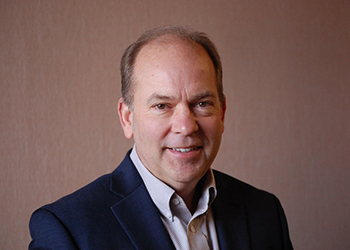 Becoming one of the largest independently owned distributors in Ontario is one thing, protecting the brand that made the business so successful is another. In 1955 Joseph Ozad founded Electrozad Supply in Windsor, Ontario and the company has thrived and prospered in markets that are diverse and widespread. 
Dave Taylor is the Director of Sales and Marketing for Electrozad, a position that he has held for almost 20 years. He had to remind me that prior to that he worked for Trade Electric in southwestern Ontario. "It's funny," I responded to David. "I have always thought of you at Electrozad and forgot about your earlier days in this industry." That alone says a ton about the Electrozad culture and approach that Taylor reinforces every day. A family business in more ways than one with a team whose members all have a long tenure and commitment to the vision Ozad founded the business upon. 
Remaining true to the company motto "the house that service built" has been a cornerstone of everything Taylor focuses upon. 
Born in Windsor, Taylor grew up in the town he still works and lives in and attended St Clair College, where he took electronics engineering as he felt that was a growth opportunity. For Taylor, like many of those in the electrical channel in Canada, the route to his present career was not preplanned per se, but rather the end result of connecting his natural sales ability with the learned technology skills. 
Taylor graduated and tried his hand at a few jobs. In 1984 Stu Mills, then manager of Ellis and Howard's branch in Windsor, approached Taylor with an opportunity to work there. (Ellis and Howard's roots were in Kitchener and had several branches and their founders were in fact not distributors at all but electrical contractors. It was acquired by Graybar in 1992). Under his mentor, Taylor learned the business from the ground up, from sales to product launches, from training to understanding client needs.  
When Mills left Ellis and Howard in 1992, Taylor was given a chance to build a new business under the Trade Electric Automation Products Group (APG) covering a territory from Windsor to Kitchener – an area he knew well. And again in the firing lines he drove this business hard until William C. Smith came knocking. Taylor's career took another turn when he joined Electrozad in November 1994.
In Taylor, Smith and Electrozad gained a well disciplined and well trained team leader who had been involved in the grass roots of the electrical wholesaling business and had learned from one of the best in Stu Mills.   
In his day to day role Taylor drives all facets of the sales team and its unique technical support and customer service groups. Ever protective of the fact the Electrozad's reputation and future are based on service it's evident that his default every time.  
Taylor still sells actively and services one customer that he has had for years. He is in the field when the team needs him and he has a commitment to solving customers' direct needs. 
The sales and marketing challenge is not an easy one for Taylor or for Electrozad. Unlike many of their competitors, they have a unique and varied market and resulting customer mix. From transportation and automotive in Windsor to petrochemical in Sarnia – and a strong construction/industrial skew in London – they have to balance the needs of their branch network to maintain the level of service and commitment that the Electrozad brand stands for. The coordination of products and technical expertise takes a huge focus for all of the team there.
Moving forward, Taylor looks at adapting to the ever changing landscape of competition, client needs and technology while making sure all of the Electrozad team works as one to embrace it. And evolving the value proposition and promoting and defending the value-added the company brings against the onslaught of the .com businesses, and the specialty houses that are also evolving with their single line focus in wire, lighting and control. 
In our chat Taylor often referred to Joseph Ozad and the roots of the business he helps run. Just like Joe Ozad, Taylor and his team focus on getting what the customers want when they need it. When Taylor is out with the team his singular focus is where Electrozad can make a difference with the programs they have for their customers. Whether it's a store room model, a wire management solution or a consignment program, Taylor ensures the design, scope of service and return is there for Electrozad and its clients as well. Doing lighting and energy audits are a key tool as well. Taylor and his team also drive an aggressive training program for customers from their Automation Universities to the numerous lunch and learns and evening sessions where client are invited to attend some training before being hosted in the company box at the Windsor Spitfires hockey games. 
One thing that's always been evident at Electrozad and one thing many of us have witnessed firsthand is the company's commitment to building relationships and giving back not only to the communities they serve and the clients they have but to the electrical industry as well.  
Here, there are many examples. Taylor knows firsthand the value of breaking new ground without strong manufacturer relationships and the experience he learned at Trade taught him that this is a foundation for success in electrical wholesaling. One need only look at an Electrozad Line card from 10 years ago and compare it today to see how the alliances they have with their suppliers are a key component to success for Electrozad. "Suppliers are a key for moving forward," he said. "You can have all the right team in place but without a strong relationship (with suppliers) it's harder than you think." He continued: "Electrozad has always had great suppliers and great support in all we have done and they have played a huge role in our growth success and ability to give back as well." 
And giving back is a hallmark of Electrozad. In 1991 The Ozad Institute was created with a donation of $175,000 from the Electrozad Foundation. The Ozad Institute is a community resource dedicated to research, education and training in neurodevelopmental disabilities. The Institute is located in, and is closely partnered with Windsor Regional Children's Centre (RCC) of Windsor Regional Hospital (WRH). Collaborative relationships have also been established with other WRH departments, the John McGivney Children's Centre, Niagara Peninsula Children's Centre, Maryvale Adolescent and Family Services, the Teen Health Centre, the University of Windsor Department of Psychology, the University of Western Ontario Schulich School of Medicine and Dentistry (SWOMEN-Windsor), the Windsor-Essex Student Support Leadership Initiative (SSLI), and two area school boards (WECDSB & GECDSB). And giving back is what Taylor subscribes to well as he currently serves on the OZAD Institute's Advisory Committee.
We asked Taylor what advice he had for the next generation, and no surprise his recipe for success was moulded by his mentorship experiences with Stu Mills, the Smith family values, the Smith family have always subscribed to and what he has witnessed first hand at Electrozad.  His response; " Get involved and give back to the electrical industry, don't discount relationships, invest time in networking, and drive hard on understanding new products and technologies and how they fit what the customer needs."  
Sound advice from an industry veteran who has done it all.