Electro-Federation Canada Members Commit to Corporate Social Responsibility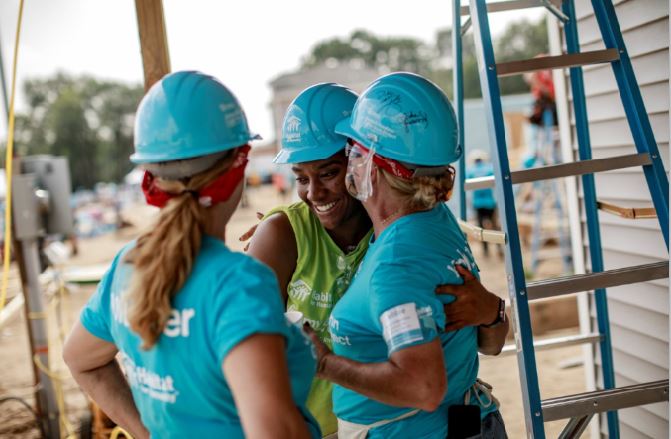 Nov 15, 2021
By John Jefkins
The electrical sector is a great career destination for many talented skillsets and has a place for everyone to grow, thrive, and give back. Whether you're in engineering, sales, management, human resources, accounting, operations, product development, logistics, and so on, you all are part of a community that powers a changing world and makes a proud commitment to corporate social responsibility. This year alone, EFC member organizations made a more outstanding contribution to corporate social sustainability efforts despite supply chain impacts, rising material costs, and economic slowdowns.
The COVID-19 pandemic has reminded us of the importance of access to safe and affordable housing since the current housing crisis accelerated. Some of those hit hardest by the pandemic are our most vulnerable populations. Electro-Federation Canada (EFC) and its members have responded to our country's growing housing affordability crisis by increasing donations of funds and products to Habitat for Humanity (HFH) Canada.
Habitat Canada has been the EFC charity of choice since 2017. This program provides a vehicle for association members to help Canadians gain affordable homeownership through cash and product donations. The past two years have ranked our EFC community at the highest Platinum donation level.
Championed by EFC HFH Committee Chair Russ Morgan, VP Sales at IPEX of Canada, IPEX Group of Companies, EFC members have stepped up in this time of great need through initiatives like the EFC Day of Giving, raising $200,000 in cash. The participating members include Acuity Brands, Ascot Capital Group, CSC LED, Daltco Electric, E.C.S. Electric Cable, Electrozad, Graybar Canada, Guillevin International, Hammond Power Solutions, Hubbell Canada, Ideal Supply, IPEX Electrical, LEDVANCE, Leviton Canada, NAPCO Royal, Nexans Canada, Ouellet Canada, Rexel Canada Electrical, Schneider Electric Canada, Shawcor, Service Wire, and Wesco Distribution. Their support and dedication to improving access to safe and decent housing is changing lives and transforming communities by supporting stable employment, better health outcomes, and increased access to educational opportunities.
In addition, organizations continue to donate electrical products and safety equipment to the HFH Restores and home builds. Combined, to date, this resulted in an additional donation of $600,000 product support.
Like Habitat for Humanity Canada, EFC recognizes the urgent need for solutions across the housing system – from emergency shelter to rental and affordable homeownership.
Together, we must look Beyond the Build to what safe and decent housing can do for families, communities, and our country.
This program aligns with talent attraction and retention. Depending on the donation level, EFC member employees have the opportunity to participate in a home build to experience the hands-on personal satisfaction of contributing to a significant cause while strengthening team relationships and culture.
Great Place to Work (GPTW), an EFC Corporate Sponsor, supports the importance of CSR. EFC and many members have achieved this Great Place to Work designation along with other Canadian CSR certifications.
This recognition has multiplied among member companies who have been certified, including 3M Canada, Guillevin, Phoenix Contact, Rittal Systems, Leviton Canada, Phoenix Contact, Proax Technologies, SICK Ltd, Southwire, and Kerrwil. Congratulations to these companies!
GPTW workplace trust metrics have a well-established impact on employee engagement and attraction. Taking part in CSR certifications builds workplace trust, sustains, and accelerates business results while also strengthening organizational resilience and agility, contributing to talent attraction, retention, and engagement.
The HFH Home Build program supports GPTW's five key areas- credibility, respect, fairness, pride, and camaraderie. Especially employees' pride in an organization's products, standing in the community and connecting in a fun environment. It also promotes an organization's brand as a good corporate citizen and returns on investment. GPTW and independent research by FTSE Russell, London Business School of Economics, and others have demonstrated that "Workplace Trust not only fuels but sustains and accelerates business results while also strengthening organizational resilience and agility." In addition, the recognition aspects of the various CSR programs offer companies enhanced brand and market visibility which further contribute to talent attraction, retention, and engagement.
To learn more about how member companies can get involved in CSR initiatives, view the options below:
• Attend an EFC Human Resources Network meeting to gain insights and learn what others are doing to explore CSR strategies suitable for your company. Contact John Jefkins at jjefkins@electrofed.com

• For more information on EFC's partnership with Habitat for Humanity Canada or donate, please visit https://www.electrofed.com/about/habitat/.

• Want to know how your company can become GPTW certified? Visit https://www.greatplacetowork.ca/en/.
John Jefkins IS VP Member Engagement & Corporate Partnerships, Electro-Federation Canada