Electrimat: Two Young Entrepreneurs' Desire to Win and Collaborate — One Innovation at a Time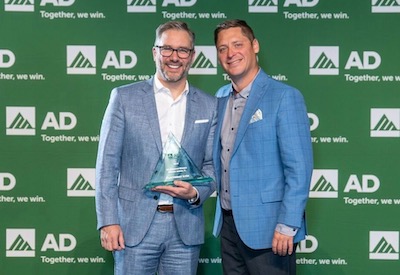 Oct 13, 2020
By Line Goyette
Electrimat is an independent Quebec-owned company that has specialized for 40 years in the distribution of electrical and lighting products. The company is headquartered in Brossard, Quebec and has four branches on the south shore and north shore of Montreal and Montérégie. It serves the industrial, commercial, institutional, residential, and public service sectors.
Christian Grenier and Mathieu Legris have been leading Electrimat for 10 years. Two friends in life who complement each other at work, and whose company regularly finds itself in the business sections of daily newspapers highlighting their exceptional performance. (See a list of recent awards, below.) Christian specializes in finance and Mathieu specializes in sales. (See biographical notes on the two authors, below.)
CEW recently had a virtual conversation with Christian and Mathieu.
"We had a dream," said Christian. "We both wanted to have a business and we were looking for a business to buy."
The two entrepreneurs had four criteria to guide them in choosing a business. Christian listed them. "We wanted a company that was known for its customer service, and had a stable customer base, but could benefit from an improvement in its offering, a company that had repeat business and where customer relations were at the heart of business processes. We were looking for a company that was not centred around one person, but where the know-how was shared, and finally a company that we could finance and that could survive on its own." After studying several files and offers, Electrimat was the stand-out.
"We were lucky to get into an industry in which we enjoy working.," continued Christian. "From the beginning, we really liked the industry. This industry is fun to work in because it is relationship-based.
"We were coming from outside the industry and we had to turn that weakness into strength, into renewal."
Mathieu added, "To overcome the fact that we came from outside the industry, we turned to our team. In the industry, people who have a career in the industry are familiar with the products. The counter service had the tools to succeed. So we had to find added value to the company away from the counter. We've developed a triangle made up of the customer, the supplier and our team. We have introduced a number of innovations in business relations, nothing major, but continuous. We were convinced, and still are, that relationships between people do not develop behind a table. We organized festive events without product displays, but where customers, suppliers and employees could meet and chat. The results were clear: our customers and suppliers were happier, the relationships between people were better."
Another example of business innovation is that these entrepreneurs do not hesitate to arrange meetings between a supplier and a customer to find common ground in the event of a conflict, logistical or otherwise, so that everyone works together to find a solution. This business model based on the customer, supplier and business triangle seems to work. Over the past 10 years, Electrimat's revenue has increased fivefold and the company has received many awards and recognition.
CEW's virtual conversation with Christian and Mathieu proceeded with a few questions.
What are the main challenges of doing business during a pandemic?
"This environment obviously raises a number of problems, but it also creates huge opportunities. At the beginning of the pandemic, we reacted very quickly and ceased operations. We were flexible and vigilant, and we were ready for the recovery. In the years to come, the logistical challenges will be significant: delivery delays, maintaining stock, increasingly complex movement of products around the world. In this context, our role as a manager between the supplier and the customer becomes more important and more complex. We have to be excellent, nothing less. We must support our customers — for them it is more important than ever to choose the right distributor who, as the economy recovers, can assist them with logistics, such as monitoring delivery times. We need to use our contacts to minimize stock outages, find alternative solutions for the customer. We need to help the customer navigate this particular period."
How do you see the next six months?
"How it's going to be, we don't know. The economy will depend on public health decisions. We have to make decisions with limited information, we will certainly have logistical problems. Will we have a V, U or W recovery? No one knows. We made courageous decisions, such as quickly rehiring the entire team. We were ready to address the recovery as soon as the residential sector opened. We have plans to open new branches and acquire acquisitions. We'll see!"
What would you say to a young person who wants to join the electrical industry?
"It's a great industry where there are many opportunities to develop a great career. People can start their professional life in the warehouse, then move to the counter, then improve in sales and administration. There are many options. We are at the heart of a changing industry, innovative and energy-efficient solutions are continually developing. Young people who love innovative technologies will be able to find their way here. It's a friendly work environment, where you meet people who want to win."
On the topic of mentors, they say they have been fortunate to have mentors on both the financial and industry sides. In conclusion, here is the testimony of one of them who now sits on their board of directors: Patrice Jomphe, Vice-President, Commercial at Thomas & Betts. "When I first met Mathieu and Christian, following their acquisition of Electrimat, I immediately saw in them two young men with an incredible desire and need to learn everything there was to know about the industry, and an interest in meeting all the players in our industry, major or otherwise. Knowing that for our industry to renew itself we needed enthusiastic young people, I thought I could contribute by supporting these two young entrepreneurs as much as possible in their efforts. Today, with more than convincing results for their company, I can say that these two young men and the great team they have put together are doing very well in a very competitive industry, and I firmly believe that the best is yet to come for them."
Recent awards
Since 2016 Electrimat has earned the following recognition:
• 2016 — PricewaterhouseCoopers Business Transfer Award (PwC)
• 2017 — Canada's fastest-growing AD Member Award
• 2019 — 386th place in the prestigious list of Canada's 500 fastest growing companies
• 2019 — CCIRS 2019 Excellence Award finalist
• 2019 — Canada's fastest-growing AD Member Award
• 2020 — "Report on Business – Canada's Top Growing Companies" Award
• 2020 — Leaders of Growth 2020 Award
Biographies
Christian Grenier has more than 26 years of experience in business development. Before becoming President of Electrimat he was Managing Partner and one of the founders of Montérégie Capital Management. He has been a consultant to large companies and SMEs. He has also held high-level positions for companies such as Cossette Communication Group, PricewaterhouseCoopers and Deloitte Consulting. Christian was Chairman of the Board of Directors of the Young Montreal Chamber of Commerce and a member of the Board for several years. He is a member of YPO (Young Presidents' Organization) and sits on its Board of Directors. He holds a bachelor's degree in finance, a certificate in accounting, and a master's degree in administration from the University of Sherbrooke. He is a member of the Quebec CPA Order (CMA).
Mathieu Legris has more than 22 years of experience in business development. Prior to becoming Vice President at Electrimat, he held sales-related positions in various industries such as document management and pharmaceuticals. He is above all passionate about entrepreneurship. He is an active member of Entrepreneurs' Organization, an international organization for the development of entrepreneurship. He is also a member of the Groupement des chefs d'entreprise, an organization that promotes mutual aid among Quebec entrepreneurs. He holds a bachelor's degree in business administration from the University of Quebec in Montreal.
Line Goyette is Managing Editor of Kerrwil Publications' Electrical Group.