EHRC Celebrates Nirav Patel, VP Human Resources, OPG, as this Year's Winner of the 2021 Agent of Change Award
October 7, 2021
The Agent of Change award was created to recognize exceptional individuals who make an incredible difference in raising industry awareness about the importance and value of diverse, equitable and inclusive (DEI) workplaces. It is awarded annually at EHRC's Agents of Change conference, a key industry event bringing together a wide range of champions who are committed to sharing their experiences and strategies in creating an inclusive workplace. EHRC hosted the Agents of Change conference on September 29th.
"Nirav embodies the spirit of diversity, equity and inclusion in everything he does at Ontario Power Generation and in his capacity as Vice Chair of the EHRC Board of Directors," says Kathy Lerette, Senior Vice President, Business Transformation at Alectra and Chair of the EHRC Board. "His thoughtful and innovative leadership in this area has produced great results and we are thrilled to be able to recognize his contributions to our sector with this award."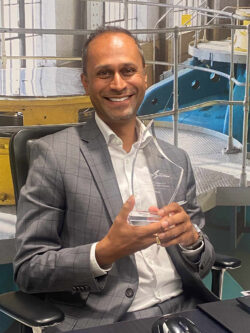 Nirav has been involved in a number of EHRC's key initiatives over the last few years, including the national mentorship program for women (Connected Women), the development of the Leadership Accord for Diversity Equity and Inclusion, and the Empowering Futures project, aimed at preparing students for the future of work through the provision of work-integrated learning (WIL) opportunities.
"Nirav is a true 'Agent of Change', and a fierce advocate for equitable and inclusive policies and practices both within his own organization and the broader electricity community," remarked Michelle Branigan, EHRC's CEO. "He has contributed immensely to our own mandate to create a more diverse workforce. He always has time to share ideas and innovative practices, and to support efforts to increase opportunities for those who continue to be under-represented in this industry."