EHRC Charts the Course to Meet Growing Electricity Jobs Demand to Power Alberta's Economy in 2023 and Beyond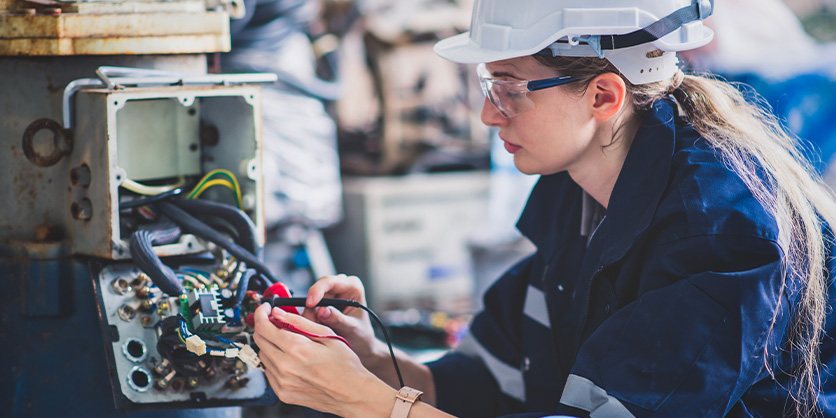 May 29, 2023
Real-time data modelling will forecast electricity workforce planning for industry, educators, career seekers
Electricity Human Resources Canada (EHRC), in partnership with the Government of Alberta, is creating a new labour market data modelling tool to forecast workforce planning needs for the province's electricity sector.
The trifecta of surging electricity demand; rapid technology change in the industry; and the opportunity to build, diversify and create jobs during the post-pandemic recovery period all point to the need for a reliable and accurate forecasting tool to define workforce skills requirements.
Shifting To A New Electricity Landscape
Increasing power consumption in Canada due to societal shifts toward smart homes, smart cities, electric vehicles, and more battery-powered devices have national and international studies forecasting Canada's electricity demand requirements to increase by two to three times our current generation capacity. 1
Research findings indicate that 30% of Alberta's electricity generation will transition to renewable sources such as wind, hydro, and solar by 2030 [source: EHRC's Report: Labour Market Intelligence for Alberta's Energy Sector – Workforce Transitions. This transition to low carbon energy sources will have a tremendous impact on Alberta's labour market.
Amping Up Workforce Planning for Alberta's Electricity Sector
As Alberta enters a new period of economic development and growth, enhancing the province's ability to conduct accurate, real-time, workforce planning is critical for the electricity sector in Alberta. This sector fundamentally impacts the lives of every Albertan and every business, and is key to Alberta's plans for economic growth (Alberta at Work).
"The Government of Alberta is committed to cultivating our workforce and creating opportunities for industry to provide Albertans with the training and skills required for our future-ready workforce," the Honourable Brian Jean, Minister of Jobs, Economy and Northern Development,
"We are proud to support this important initiative led by Electricity Human Resources Canada to support Alberta's electricity sector with the skills needed to power our economy and communities for decades to come."

THE HONOURABLE BRIAN JEAN, MINISTER OF JOBS, ECONOMY AND NORTHERN DEVELOPMENT
"The electricity sector workforce must grow to meet transitioning and anticipated power demands, and adapt to new skill sets," confirms Michelle Branigan, CEO, EHRC. "Factor in high retirement rates, intense competition for talent, and long-lead times for training for many high-expertise positions – the need for reliable workforce forecasting is an industry imperative."

Michelle Branigan, CEO, EHRC
The primary goal of this project is to create a labour market forecasting tool that will enhance the ability of Alberta's electricity sector to determine workforce supply and demand. This requires timely, reliable, and comprehensive Labour Market Intelligence (LMI) to assess the ongoing and future workforce training requirements which are essential for talent planning and overall industry workforce stewardship.
A recognized leader in labour market research and business intelligence, EHRC will engage industry stakeholders across Alberta to determine the key factors that affect labour supply, demand, and composition in the province. These considerations will be validated by a Steering Committee and shared in a key findings document.
This project is being funded in part by the Government of Alberta through a Workforce Partnerships grant, where eligible organizations with common labour market needs can get funding for workforce initiatives.
1 2050 Vision: Powering Canada's Journey to Net-Zero, Canadian Renewable Energy Association (CanREA); The Big Switch, Powering Canada's Net Zero Future, Canadian Climate Institute; Canada 2022, Energy Policy Review, Parisbased International Energy Agency News Release 2 Classification: Protected A