EFC Marketing Awards Deadline Extended to July 30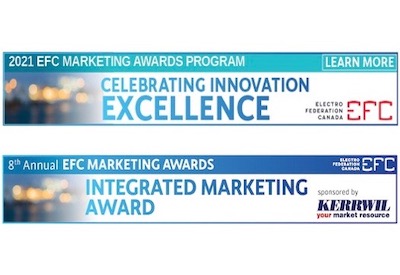 July 8, 2021
At a recent EFC Marketing Network meeting, Meena Bajwa, Schneider Electric, the new Chair of this Network and team lead, John Jefkins, EFC, announced an extension of the Marketing Awards program deadline to July 30, 2021.
"We are excited with the submissions being received and understand that spring has been an incredibly busy time for all. Some members have expressed that a little more time to prepare would be a big help," said Jefkins.
Meena Bajwa, Schneider Electric, is the new Chair of this Network. John Jefkins is EFC's VP, Member Engagement & Corporate Partnerships.
This network takes pride in showcasing member marketing programs that demonstrate excellence and innovation in the Canadian Electrical industry. The recipients will be announced at this year's Virtual Future Forum on November 24.
Kerrwil Publications sponsoring Integrated Digital Marketing Award
This award was established to recognize excellence in the bringing together of numerous marketing tools to build brand, increase sales, create awareness or increase engagement with a core audience.
If you and your team have been successful in integrating a campaign that delivered you great results, we hope you will enter it now into the Integrated Marketing Campaign. Winning an EFC Marketing Award will give you the opportunity to increase you and your company's profile by achieving valuable recognition as a leading industry marketer.
The award should have three or more aspects such as digital, print, direct marketing etc. For Digital only campaigns, please enter the Digital Innovation Award. Application deadline is July 30th, 2021.
For more information on all four categories and the submission process, click here.