E.B. Horseman's Renee Lytle Appointed as EFC 2023/24 Chair
June 13, 2023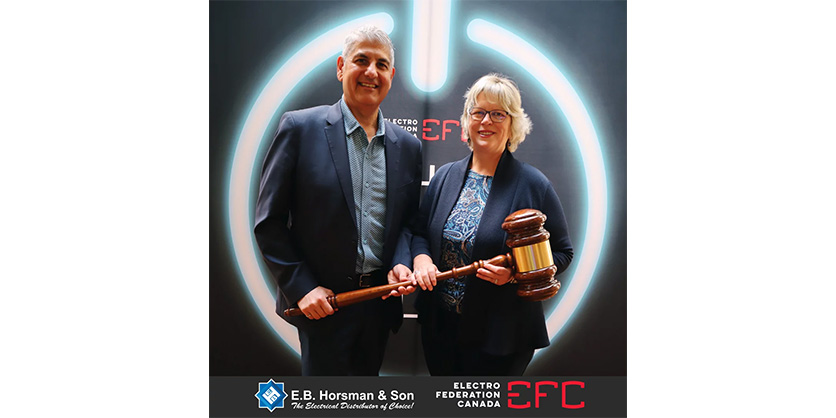 E.B. Horsman & Son is thrilled to announce the appointment of Renee Lytle, CFO, as the new Chair of Electro-Federation Canada (EFC). As Chair of EFC, Renee will be leading initiatives that promote industry growth, electrification, government relations, codes and standards, cyber security, DEI, and talent development. Her vision and leadership will undoubtedly have a positive impact on EFC's mission to advance the industry and drive innovation.  
Renee Lytle, CFO of E.B. Horsman & Son and Chair of EFC expresses:
"I am humbled and honoured to be appointed the 2023-24 Chair of Electro Federation Canada (EFC). Thank you to our outgoing Chair, Frank Cistrone, for his exemplary leadership and to the entire board, in particular the executive – Umesh Patel, David Nathaniel, Luc Rodier – for your dedication and support to EFC and our industry. It is exciting to be working with such an engaged team that represents Canada coast to coast – manufacturers, distributors and manufactures agents – with one shared goal to improve our industry. 

This is only possible because of the EFC team, led by the incomparable Carol McGlogan. Under her visionary leadership, EFC has grown to over 230 member companies contributing over $15.2 billion and 100,000 jobs to the Canadian Economy in the dynamic electrical and automation industries. I look forward to working with the board and EFC to continue initiatives focused on promoting  industry growth, government relations, codes and standards and improving industry best practices around cyber security, DEI and talent development. 

We recently concluded our annual EFC Conference in beautiful Charlevoix Quebec that brought over 600 individuals for shared conversations, inspiring speakers, and a chance to celebrate and recognize individuals and companies. I am very proud to be part of EFC and our industry – a community committed to powering a changing world through innovation, electrification, and standards of excellence in all aspects of business.  #Grow #Lead #Compete"

Renee Lytle, CFO of E.B. Horsman & Son and Chair of EFC
Renee Lytle's career at E.B. Horsman & Son spans over 25 years, showcasing her dedication to the company. With a comprehensive involvement across various aspects of the business, including human resources, finance, operations, sales, and strategy, Renee brings extensive knowledge and a strategic mindset to the organization. Renee's commitment to continuous learning is evident in her collaboration with coworkers and individuals outside the company. She actively seeks opportunities to expand her knowledge and stay ahead of industry trends.
Related Article
The EFC Conference that took place May 30 to June 2 this year in beautiful Charlevoix Quebec, along the north shore of the Saint Lawrence river, was a powerful display of community, progressive leadership, purpose-driven goals, and celebrations. New visions and next steps were top of mind as EFC found "a place for everyone' as stated by Carol McGlogan, President & CEO.