EFC, CIPH, and HRAI Have United to Call on Government to Provide More Equitable Distribution of Wage Subsidy Benefits for Construction Businesses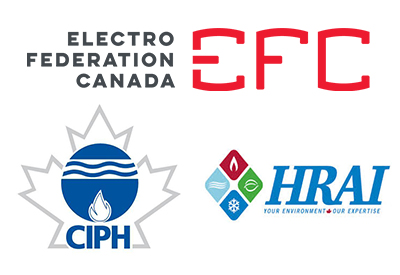 April 10, 2020
EFC, CIPH, and HRAI have submitted a letter to Finance Minister, Bill Morneau outlining their concern over wage subsidies for construction businesses during the pandemic.
You can find the full letter HERE
CIPH
Founded in Montreal in 1933, the CIPH is a not-for-profit trade association that is committed to providing members with the tools for success in today's competitive environment. More than 283 companies are members of this influential Canadian industry association. They are the manufacturers, wholesaler distributors, master distributors, manufacturers' agents, and allied companies who manufacture and distribute plumbing, heating, hydronic, industrial PVF, and waterworks, and other mechanical products. CIPH wholesalers operate more than 700 warehouses and showrooms across Canada. Total industry sales exceed $7 billion annually and CIPH members have more than 20,000 employees from coast to coast.
Heating, Refrigeration and Air Conditioning Institute of Canada (HRAI)
Founded in 1968, the Heating, Refrigeration and Air Conditioning Institute of Canada (HRAI) is a non-profit national trade association of manufacturers, wholesalers and contractors in the Canadian heating, ventilation, air conditioning and refrigeration (HVACR) industries. HRAI advocates a safe, responsible and fair industry where indoor environment systems and refrigeration processes are designed, installed and serviced by qualified professionals in order to ensure efficient and energy-conscious operation.
EFC
Electro-Federation Canada (EFC) is a national, not-for-profit industry association that represents over 220 member companies that manufacture, distribute, market and sell a wide range of electrical products. EFC members contribute over $10B to the Canadian economy and employ over 40,000 workers in more than 1,300 facilities across the country. EFC empowers the industry with market intelligence, professional development and a voice for advocacy and standards advancement within a safe, collaborative environment.