Doug Baldwin: An Electrical Industry Pioneer and Champion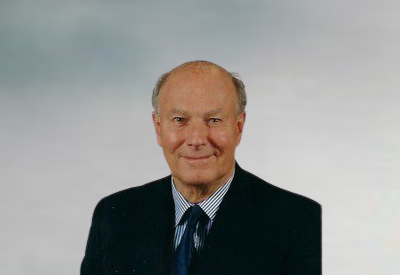 Jan 13, 2021
By John Kerr
My father asked me to lunch one day and told me he wanted very much to meet with someone in the electrical industry who meant a lot to him, and whose friendship he wanted to share with me. This lunch, in 1982, was with Doug Baldwin.
As lunch progressed, I discovered these men shared many bonds after having met years before in Winnipeg. Doug was with Federal Pioneer at that time, my father with Triangle Conduit & Cable. It seems they hit it off and my father's wry sense of humour was trumped only by Doug's. The lunch talk this day was about the industry, peppered with a few colourful events that bonded my father and Doug so closely.
It appeared to me quickly these men were close, and as the years progressed I learned that bond was built on my father's unique ability to be there when men like Doug were coming through the business. There was a sincere trust and caring. They shared the same contractor customers, they shared the same distributions, and as it turned out they shared the same passion for the industry.
After that lunch Mr. Baldwin (as I addressed him for several years) gave me his card and said, "Young John, you are Jack's son, so you feel free to drop by and visit with me at my office, any time."
The day after Doug became President of Schneider Canada, I dropped by the Waterman plant in Toronto. There was a flurry of activity at reception as employees tried to protect their new president from some cold call until Doug showed up and said to the assembled team, "If he comes by anytime, show him in," and followed with "John, let's have a quick cup of tea together."
My visits with Doug were infrequent but when they did occur he listened, coached, set me in my place, and more importantly challenged. There was always a challenge.
One day I met Doug by accident. Arriving at the Air Canada lounge in Heathrow, flying home from a long business trip, I found a quiet spot only to hear, "Bloody hell, they would let anyone in here." It was Doug. As we were called for our flight, he said "Give me your boarding pass." Disappearing for few moments, he returned, announcing "You are sitting with me." We talked the whole flight; the time flew by too quickly.
One story was telling of Doug's way and self-deprecating style. Doug played tennis and, as it turned out, would play often with my father and Brian Shea (SpanCan/SEABELL). Recalling a particular game, he said "I remember how those two rascals ran me ragged around the court. The old foxes had a new toy to play with."
When my father passed away, there was Doug. His words at my father's service still resonate, and at the time gave my mother so much comfort.
I was always impressed with Doug when being recognized for his many achievements. He would speak of his team and their support, and never took the credit himself.
Baldwin was one of those men who architected elegant solutions to the industry challenges of the time. He would work tirelessly on behalf of the electrical industry. He was a builder, one not happy with the status quo and one who when a challenge presented itself would never back down.
Doug's vision and energy were the cornerstone of Electro-Federation Canada's founding. He served as EFC president and CEO after serving two terms as a director, and was the first chair of Electrical Equipment Manufacturers Association of Canada (EEMAC), the predecessor to EFC today.
More recently Doug served on the board of Hammond Power Solutions, but always wanting to be there for those who would follow he would reach out and make sure if they needed any help, he would offer encouragement and support.
We will all miss him so much and I am hopeful that when we can all regroup we will all get together and share the many stories of how he helped so many us in our careers and how he was a pillar of this industry we all love so much! We all owe him a lot.
John Kerr is Publisher of CEW; johnkerr@kerrwil.com.