Don't Miss German Technology Day 2022, the Future of Automation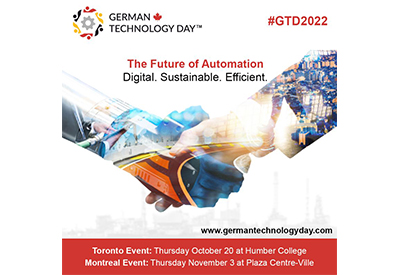 September 9, 2022
Welcome to German Technology Day 2022. Visit GTD's website HERE to register now. They have a great event planned you will not want to miss out on.
This year, fifteen prominent companies in automation and advanced manufacturing, based in Canada with their headquarters in Germany are hosting the annual German Technology Day trade show and conference.
Exhibition Hall: Each company will have an exclusive booth to share their latest industry-leading, energy-efficient solutions, and introduce you to some of the most innovative technology.
Innovation Hub: An interactive section with digital access to information and specs on featured solutions from each company.
Breakout Room Sessions
German Technology Day offers a full-day of presentations and technical sessions across 3 rooms, running in conjunction with the exhibition.
15 companies will present live sessions covering a variety of topics focused on this year's theme: The Future of Automation: Digital, Sustainable & Connected.
Special Introductions
The Toronto event will commence with a greeting from the Consul General, Federal Republic of Germany, Toronto, Thomas Schultze.
At the Montreal event, Susanne Aschi-Glesius, Germany's Consul General, Montreal, will deliver the opening remarks.
View the LinkedIn post HERE.
Register HERE.