Discussing Diffused LED Lighting with IIlumisoft CEO Brett Nicholds
June 24, 2021

By Blake Marchand
Illumisoft Lighting is an innovative company headquartered in Ottawa that focuses on suspended ceiling troffer LED fixtures that utilize optical film technology to achieve a high level of performance and efficiency.
Their flagship product is the EcoWing, which is available for new construction and fixture in fixture retrofits. Their primary application target is office buildings, hospitals, and dealerships. Recent projects include the Department of National Defense building in Ottawa, AMPED Sports Lab, Queensway Carleton Hospital, and Surgenor Automotive Group.
"I know we can retrofit and get into a bunch of other places," explained CEO Brett Nicholds of the industries spaces they operate in, "but we need to focus on the things we do best."
He added that, specially in Canada, "there's a huge focus on the greening of government and retrofitting buildings. And I know the government is working hard on creating new workplace 2.0 standards, that stuff is really important, there's going to be an increased focus on light quality. The government has passed legislation about light sensitivity as a disability, so there's a real awareness."
The maturation of lighting control technologies and the benefits of human centric lighting have put focus on light quality, along with efficiency and cost savings. That increased focus presents a real opportunity for Illumisoft as they continue to grow their brand.
Nicholds explained the biggest innovation in troffer lighting over the past 20-years is the introduction of LED technology. However, the structure and design of the fixtures themselves haven't changed all that much. Nicholds looks at Tesla for comparison, rather than simply replacing a gas-powered engine with an electric one, they reimagined the entire vehicle. Illumisoft has taken that approach to their fixtures. Rather than replacing ballasts with a row of LEDs, they looked at how the entire fixture could impact the distribution of light.
In that sense, "Our differentiator is the use of optical films," Nicholds said.
Company founder and CTO, Leslie Howe developed the technology for their products. Working in photography at the time, he was looking for a way to imitate soft sunset light, leading him to the use of reflective and diffusion film to manipulate light.
"The difference ends up being – take your standard centre basket fixture, for example – instead of having a metal back troffer, the back of our fixture is a transmissive optical film that is 99.7% reflective. If you bounce light off of it you don't loose intensity, we can bounce light around in the light fixture and then down through diffusion film. The process creates a whole bunch of different features because you are only using films within the fixture. That's where all our patents lie, even in how we position LEDs off axis, the substrates you can use, or creating holographic effects."
"If you line up the LEDs off axis on a 45-degree angle you can bounce light off the edge of the reflection film, up to the top of the reflection film and then down through the diffusion film – and because, on this particular group of fixtures (EcoWing), we're not limited to a small, narrow aperture like a centre basket, we're spreading that already indirect light over the whole aperture. So, you get this incredible, soft indirect light that has glare control properties as well as incredibly high efficacy."
The latter being the primary benefit of the technology. A focus of the industry has always been to get the highest lumens per watt at the lowest cost. Illumisoft's aim is to meet that trend while also providing a higher quality of light.
"On DLC (when you adjust it remove high bays from troffers) we have 6 of the top 10 fixtures and 34 of the top 50," noted Nicholds.
In terms of features, another advantage of Illumisoft's technology is glare reduction. "We have amazing glare controls, again because we're using optical films, our EcoWing V has an UGR rating number of about 15."
"Because we're using film and aluminum (on the EcoWing) you end up with an incredibly light fixture, it weighs about 2.5 pounds (EcoWing R) and the new construction (EcoWing V) weighs about 5 pounds versus 15 or 20 pounds."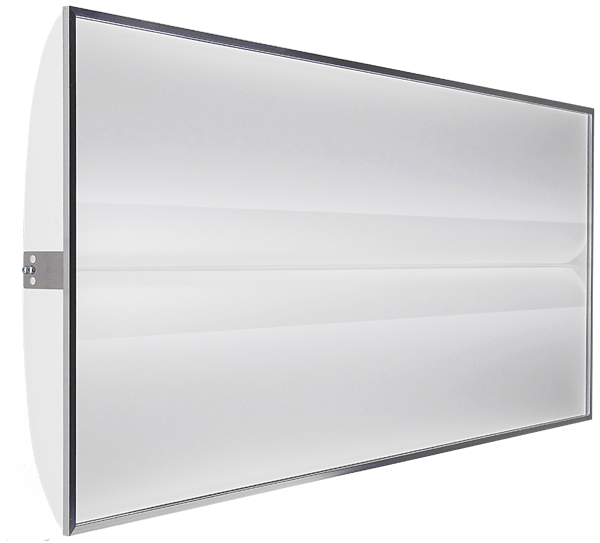 "When you stick 20 or 30 of them in a box and send them out to the contractor, it doesn't require a palat, it doesn't require a pump truck, it doesn't require one person to hold the fixture while the other is putting it in the ceiling. Its super easy and quick to install for a contractor."
Another interesting aspect is they can be customized because Illumisoft cuts the film used in the fixtures themselves.
"In Canada it has become especially important," Nicholds explained because there's a lot of metric buildings across Canada that require 20×60 fixtures.
"Our 20×60 is fully luminous from end to end over the whole aperture, its about 160 lumens per watt versus a centre basket that gets about 100 lumens per watt. I know we're priced similarly in the market, so those are huge opportunities for us."
Nicholds noted that the company wanted to expand their product offering beyond their flagship EcoWing in a couple of areas, spending a good chunk of the past year on product development. Primarily on a more economical centre basket fixture that would be competitive. Given the challenges brought on by the pandemic, they also expanded into upper room GUV lighting. Launching a new brand called SaniLume for the product.
The Dimension LG Series is Illumisoft's version of a centre basket.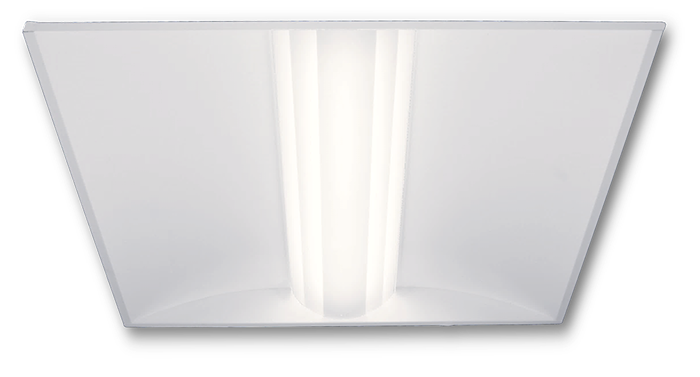 "We sacrificed some of the larger aperture to make a centre basket out of film. It has all the same properties inside, we're using the reflection film, we're using the diffuser film, but because you're focusing it over a narrower aperture, you're not getting all the same exact benefits. What you do get is a much lower glare than you'd get from most centre baskets (we should be under 20 UGR when all is said and done), with all the new UGR stuff coming we want to be able to get it into the premium category, because I don't think there are any other centre baskets that are going to qualify for DLC Premium in glare control. Its just hard given the amount of space you're working with in that aperture."
"It hit the sweet spot for a lot of agencies," Nicholds noted because of the lower price point. "Now its starting to gain traction in that more commodity part of the business, which is really exciting for us."
As the company was aiming to grow their market share, they found that they could either sell direct or through the agency and distributor channels, opting for the latter, Nicholds said, "it was tough when you let go of your ability to create revenue on your own, you're really relying on your partners to come through for you. They have to share that same enthusiasm for your stuff and that's a very hard thing to translate."
In speaking with Nicholds, there is no doubt in the belief the company has in their products. Illumisoft is still young, relatively, and they have invested quite a bit of time and expertise in developing their own technology and their own products, which are manufactured in Ottawa. This is why it was difficult for them to take a half step back and allow their products to be sold through distribution channels.
"We've made some realizations along the way," he said, explaining that its one thing to have agency partners and another to have agency partners that are invested in the success of your products.
"When we first started out, we went on a road show down to the states, visited 10 agencies and they all signed us up and we thought, 'this is the greatest, everyone loves our stuff.' But obviously its not that simple. You get on a line card and you're buried between a whole bunch of others and they don't really care if they sell you or not."
To address that dynamic, Nicholds said they trimmed down the agency partners they work with to focus their efforts, "and reconsolidate that growth with actual partners that we know and that are on board with what we're trying to do. Because you can waste your energy in too many places."
"This year we decided that its not enough for our agencies to want to help us, we have to help our agencies help us, we need all the basic stuff… you need designers on board, you need engineers on board, you need architects on board. That is all stuff we know, but we're a manufacturer, we're not amazing at brand awareness. So, we made a real effort on brand awareness this year, we brought in a digital marketing company to help us create a story to be able to bring out to our partners so they can explain it to people and integrate into their marketing platforms."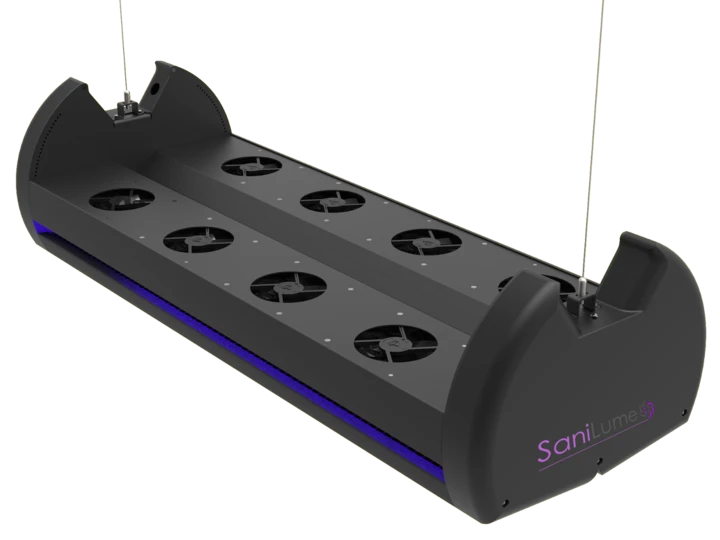 When it comes to their SaniLume brand, upper-room UVC disinfection has been used in hospitals for its ability to safely sanitize and deactivate viruses. Given the increased focus on UVC products brought on by the pandemic it is being used in other spaces, as well. The AMPED Sports Lab project mentioned above utilized SaniLume, for example. Along with hospitals, other applications include schools, retirements homes, long term care homes, gyms, and offices. Again, they wanted to differentiate the product with thoughtful design. The aim was to make the disinfecting process more efficient – 25,000 cubic feet of air can pass through the fixture and pathogen elimination zone per hour. Which can disinfect a 400 sq. ft. room approximately every two minutes.