Canadian GDP by Industry for August 2020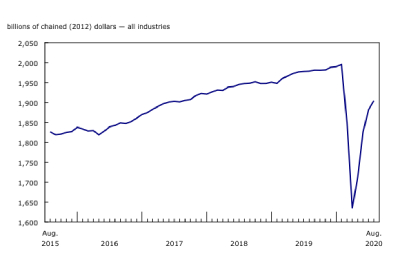 Nov 2, 2020
Real gross domestic product (GDP) grew 1.2% in August, following a 3.1% increase in July. This fourth consecutive monthly increase continued to offset the steepest drops on record in Canadian economic activity observed in March and April, however overall economic activity was still about 5% below February's pre-pandemic level.
Both goods-producing (+0.5%) and services-producing (+1.5%) industries were up as 15 of 20 industrial sectors posted increases and two were essentially unchanged in August.
Given the unprecedented economic situation brought on by the COVID-19 pandemic and the demand for trusted information, Statistics Canada continues to provide an advanced aggregate indicator of the state of the Canadian economy. Preliminary information indicates an approximate 0.7% increase in real GDP for September as the manufacturing, public, and mining, quarrying and oil and gas extraction sectors increased. This advanced estimate points to an approximate 10% increase in real GDP in the third quarter of 2020. Owing to their preliminary nature, these estimates will be revised on December 1 with official releases of GDP data for September and the third quarter.
The public sector continues to increase
The public sector (educational services, health care and social assistance, and public administration) grew 1.9% in August, as all three components were up. With record growth over the last four months, the public sector largely recouped the declines of March and April but was about 4% below February's pre-pandemic level.
The education sector rose 3.4% in August, led by a 5.1% increase in elementary and secondary schools. Continued effort by elementary and secondary school teachers, support staff, and administrators across the country to prepare classrooms for a return to school, with online learning, coupled with other COVID-19 related protocols (such as enhanced cleaning, preparing schools and classroom for physical distancing, etc.), partly contributed to an atypical August increase in an atypical year as educational services continue to recover from low spring levels.
The output of health care and social assistance rose 1.6%, as all forms of health and social care services grew. Ambulatory health care services (services provided by offices of physicians, health practitioners, dentists, and medical and diagnostic laboratories) were up 1.9%; however output was approximately 14% below its February pre-pandemic level. Many health care providers' offices continued to operate at a reduced capacity, including restricting the number of appointments aimed at limiting the spread of COVID-19. Nursing and residential care facilities (+1.8%) and social assistance (+3.8%) were also up, while hospitals increased 0.6%.
Public administration was up 1.2% in August, as output at all levels of government increased. Public administration facilities such as government services centres, courts, etc., continued to gradually reopen in-person locations as many regions across the country continued to ease emergency restrictions, while the majority of public servants continued performing their functions remotely.
Professional services grow
Professional services expanded 2.2% in August as all industries, except for specialized design services (-0.5%), were up. Contributing the most to the gains were other professional, scientific and technical services (+10.2%) and computer systems design and related services (+1.6%). Legal services, which derive much of their activity from real estate transactions, continued to grow in the month, up 2.9%.
Manufacturing continues to grow
The manufacturing sector was up for the fourth consecutive month, although at a much slower pace compared with the previous three months, rising 1.2% in August as gains in durable manufacturing more than offset lower non-durable manufacturing.
Durable manufacturing grew 3.8% in August as 8 of 10 subsectors increased. Contributing the most to the growth was the machinery manufacturing subsector (+9.4%) as the output of the majority of industries rose, influenced by higher inventory formation according to the Monthly Survey of Manufacturing. Miscellaneous manufacturing increased 17.3%, led by a 22.0% jump in medical equipment and supplies manufacturing. Wood products manufacturing grew 8.7% as all industries were up, benefiting from higher prices for their products driven by low supply following the onset of the COVID-19 pandemic and heightened demand both domestically and internationally. Transportation equipment expanded 1.6% as the majority of industries were up, while electrical equipment (-10.1%) and primary metal manufacturing (-0.2%) offset some of the gains.
Non-durable manufacturing contracted 1.6% in August as declines concentrated in plastic and rubber products (-11.1%), chemical (-2.4%), petroleum, coal products (-3.7%) and food manufacturing (-0.8%) more than offset gains in the remaining subsectors.
Strength in construction continues
The construction sector rose 1.5% in August, up for the fourth consecutive month, as the majority of subsectors increased, bringing the activity to within 2% of February's pre-pandemic level.
Residential construction grew 1.8% in August, surpassing the pre-pandemic level of activity as all types of residential construction were up. Both engineering and other construction (+2.7%) and repair construction (+1.5%) grew in August, while non-residential construction contracted 1.7% with all components down.
Go HERE for the full report