Calling All Marketing Professionals: The Marketing Awards Program is Now Open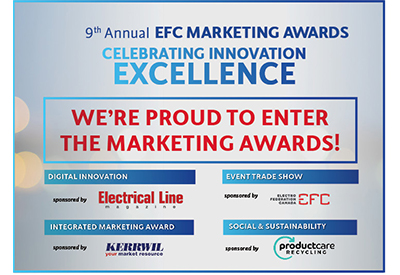 April 27, 2022
EFC members have an opportunity to be recognized for marketing excellence and trail-blazing innovation within the electrical and automation community.
To celebrate the innovations, creativity, and marketing masterminds and showcase the strength of our community as we emerge from the pandemic, Electro-Federation Canada (EFC) is pleased to announce the 9th Annual Marketing Awards Program for 2021/2022. The award submissions deadline is July 15, and recipients will be announced at this year's Future Forum in the fall.
This program includes four categories:
Event Trade Show (sponsored by EFC)
Digital Innovation (sponsored by Electrical Line)
Integrated Marketing (sponsored by Kerrwil)
Social & Sustainability Award (sponsored by Product Care)
To learn more about the program and enter your organization for a chance to be recognized in the industry, click here.